Greater Noida to hire agency for groundwater conservation
Updated on Feb 26, 2017 11:25 PM IST
Greater Noida authority decides to hire a private agency to conduct a detailed survey on groundwater depletion in the district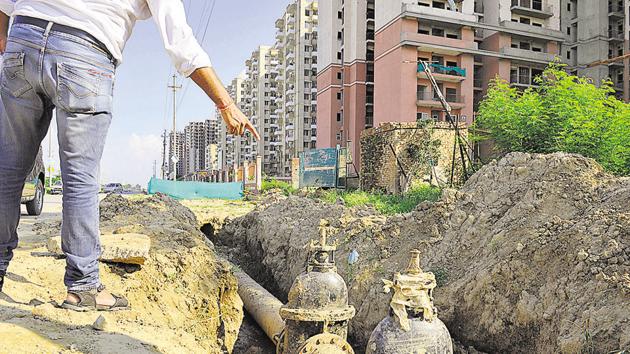 The Greater Noida authority has decided to hire a private agency to conduct a detailed survey on groundwater depletion in the district. The agency is to also come up with ways for conserving groundwater, stop its depletion and rainwater harvesting.
"We have prepared the terms and conditions under which the expert agency will be selected for the job. It will conduct a detailed survey and submit a report that will find ways to recharge the depleting water table," said RK Ojha, environmental scientist, Greater Noida authority.
The decision comes a year after the national green tribunal (NGT) had ordered the authority to take effective steps to stop groundwater depletion and prepare a roadmap for its conservation. The NGT had given the order on February 29 last year in response to a plea filed by Mukesh Yadav of Bisrakh in Greater Noida West (Noida Extension) that is home to many affordable housing realty projects. The area has around three to four lakh under-construction flats in various projects.
Read more: Violating NGT norms, residents of partially finished Noida societies using groundwater
Yadav had filed the petition in NGT in 2014 after he found that borewells in the area failed to supply drinking water. He had alleged that due to massive digging by builders to lay foundation of buildings, groundwater was depleting drastically in Greater Noida areas.
Following the NGT's February 2016 orders, the Uttar Pradesh pollution control board (UPPCB), Central ground water authority (CGWA), the state water resource department and the Greater Noida authority had in June also suggested that groundwater be replenished by rejuvenating ponds and tapping rainwater in Greater Noida West.
"But later we thought that hiring an expert agency will be better to address the issue adequately. After March 11, the authority will float a tender to select the agency," said Ojha.
Greater Noida West falls in Bisrakh block that is categorised as 'over exploited'. It means no groundwater can be extracted for any purpose and there is immediate need to improve the groundwater situation and ensure sustainability of groundwater resources, said officials. According to the CGWA's 2015 report, in Bisrakh block groundwater was 8.16 metres below surface level and there was zero recharge of the water table in 2013 monsoon.
Read more: Groundwater level depleting steeply in western UP districts, activists to move court
"We have rejuvenated around 200 ponds in Gautam Budh Nagar district since the February order of NGT. I am roping in corporate houses to help revive dying ponds," said NP Singh, district magistrate, Gautam Budh Nagar.
The authority said the agency chosen will survey and prepare the report for the entire Gautam Budh Nagar district, including Noida, and not just Bisrakh or Greater Noida.
"Since groundwater conservation is interrelated with all nearby areas, we will prepare a report on the entire district," said Ojha.
However, environmental activist Vikrant Tongad said instead of wasting further time, officials should start taking steps to conserve groundwater at the earliest.
"It has been a year since the NGT order on this issue came in February, but officials have done nothing on the ground. I have been writing to the Greater Noida authority and other officials on this issue but they are yet to execute steps on the ground to stop depletion of water table," said Tongad.
However, Deepak Agarwal, chief executive officer of Greater Noida authority, said, "We will take all necessary steps for groundwater conservation and implement the NGT order."