Man waits for a day to cremate wife's body as bank refuses to give funds
Nov 29, 2016 10:33 PM IST
A man ran from pillar to post for over 24 hours to arrange money to perform the last rites of his wife.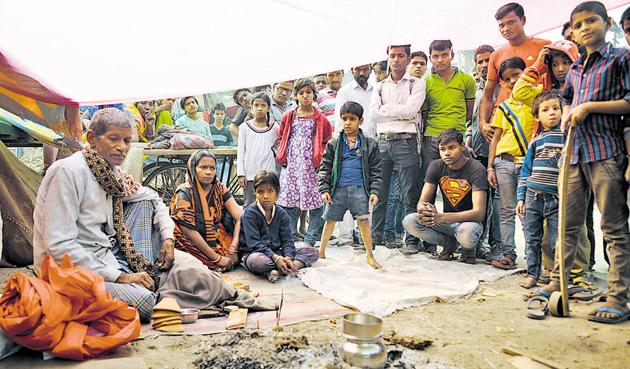 Phoolmati, 62, wife of 65-year-old Munni Lal, a vegetable vendor who lives in the slums of Sector 9, died around 1pm on Monday after a prolonged illness.
Lal said that the family has over ₹15,000 in their accounts at the Sector 9 branch of Bank of India (BoI), but he was unable to withdraw cash to cremate his wife till Tuesday afternoon. The family and their neighbours also staged a protest in front of the bank.
"I was waiting in the queue at Bank of India's Sector 9 branch for over three hours on Monday, but in vain. I requested the bank staff to give me some money from my account to perform the last rites of my wife, but nobody heard my request. They thought that I was lying and said that the bank was closed for the day," Munni Lal said.
He said that his wife had died of cancer and he placed the body on a slab of ice in his residence. He said that he went to the bank again on Tuesday morning, but there was a long queue. He said that the bank officials denied his request again.
"I sought help from my neighbours, one of whom contacted a local politician and also informed the media. About 12.30pm on Tuesday, after media persons and local leaders asked the bank manager about the incident, he called me into his cabin and gave me ₹15,000 from my account," Lal said.
Munni Lal and his son Yaman Prasad had a total of ₹16,023 in their accounts with the branch.
Lal's neighbour Abdul Khan, who had contacted the media and local leaders, said, "Munni Lal was devastated after not getting cash from his account. He repeatedly requested neighbours to lend him some money, but we were also out of cash. We finally decided to inform politicians and the media about the incident. After pressure mounted, the bank finally gave him the cash."
The branch manager of Bank of India in Sector 9, Sishupal, said that there was no cash in the bank. "We had run out of cash on Monday afternoon. On Tuesday, we handed cash over to Munni Lal as soon as we received it," he said.
Meanwhile, the district magistrate of Gautam Budh Nagar, NP Singh, ordered an inquiry into the matter. "I have asked the city magistrate to conduct a thorough inquiry into the matter," Singh said.
Lal and his family are from Basti district of Uttar Pradesh.