Noida: Accidents, fatalities at five-year high in district
Published on Dec 16, 2017 11:02 PM IST
According to official records, 965 accidents were recorded till November, in which 394 people died and 819 people were seriously injured.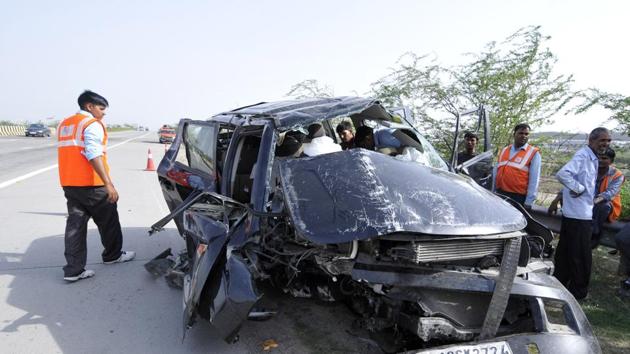 A five-year high number of accidents, fatalities and injuries have been recorded in Gautam Budh Nagar district from January to November this year. According to official records, 965 accidents were recorded till November, in which 394 people died and 819 people were seriously injured.
Traffic officials said the main reason for the rise in accidents was speeding by commuters. Accidents have taken place on arterial routes such as Noida-Greater Noida Expressway and Yamuna Expressway.
According to the police data, from 2013 to 2014, as many as 3,896 accidents were recorded across the district of Gautam Budh Nagar. In these accidents, a total of 1,782 people were killed and 3,455 were critically injured.
AK Jha, superintendent of police (traffic), said, "Overall, the data points to an alarming rate of increase in deaths. We have identified the areas where the maximum number of accidents take place. Proper lighting and installation of speed reflectors have been ensured in these areas so that commuters follow traffic rules. Much is needed to be done to bring down the rate of accidents."
The highest number of vehicles that were involved in accidents were cars, followed by bikes. Most of the accidents pertaining cars have taken place due to speeding, while incidents involving bikes were mostly cases of hit and run, the police said.
To control the number of traffic violations, traffic police have installed CCTV cameras on the Noida-Greater Noida to track those speeding and have started sending them e-challans. The police said that this will help sensitise commuters about traffic rules.
Officials said violators are being sent e-challans on a daily basis.
The police said that they are concerned about incidents of speeding and so, have also placed six locations on the internal roads of Noida under the CCTV scanner.
"Speeding is a major cause of concern, as it leads to accidents. Based on this, we installed cameras on Noida's elevated road as well. In this year alone, five accidents have taken place on this route and the causes were rash driving and speeding. Now the cameras are helping us to penalise the violators," Jha said.
The police have identified the 10 accident black spots in the district, where the most number of accidents have taken place from January 2013 to November 2017. Officers said that the number of fatalities was the highest in accidents that took place at these spots.
An official said that these areas do not have rough patches, which can cause an accident, but people drive rashly and do not take the road alignment into consideration. The police said that to ensure a decrease in the number of fatalities, the number of police response vehicles on the highways has been increased to ferry accident victims immediately to a hospital.
Anurag Kulshrestha, president of Trax Road Safety, an NGO, said, "Speeding is taking place because of our communicators. In an advertisement, a car or a bike is always portrayed that it can run faster. We do not have the roads that can fit the advertisement. On the other hand, there is no concept of lane driving, which also needs to be enforced. Once it is done, there will be no chance of rash driving, overtaking or speeding."
Anita Bhardwaj, a resident of Sector 17, whose son was badly injured in a road accident in July, said that laws need to be enforced in letter and spirit. "Acute awareness is required to let people know consequences of the accident. Speeding has become the main cause of accidents, which can be collectively stopped with the efforts of the people."