Noida: Sudarshan News owner yet to be held in rape case
Police are yet to arrest Suresh Chavhanke three days after an FIR was lodged against him for rape, attempt to murder, and fraud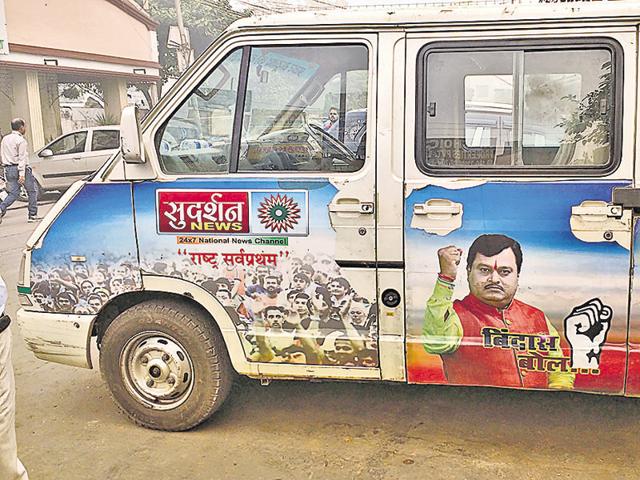 Published on Nov 06, 2016 01:41 AM IST
Police are yet to arrest Suresh Chavhanke, owner and editor-in-chief of Sudarshan News Network, three days after an FIR was lodged against him for rape, attempt to murder, and fraud. The FIR also names Narain Sai, son of self-proclaimed godman Asaram Bapu, for attempt to rape.
On Wednesday, a former employee of the Sudarshan channel had filed an FIR in the women's police station in Noida alleging that Chavhanke had raped her and attempted to have unnatural sex with her on October 20. She also accused Narain Sai of attempting to rape her in September 2013.
The victim further claimed that Chavhanke had been sexually exploiting her since 2013 on the promise of marriage and had also taken cash and jewellery worth Rs. 27 lakh from her.
The police have booked Chavhanke under 11 sections of the IPC including charges of rape, attempted unnatural sex, attempt to murder, forced miscarriage, criminal intimidation, cheating and outraging the modesty of a woman.
While Sai is currently in Surat jail in a previous case, the police are yet to arrest Chavhanke. Anju Tevatia, investigating officer of the case, said that the police have not yet completed the investigation. "We are still investigating the case. The decision to arrest Chavhanke would be taken only after that," she said.
Representatives of Asaram Bapu's ashram rubbished the allegations against the godman's son saying that he is the victim of a conspiracy.
"If the incident occurred in 2013, then why has the woman registered the complaint now? In 2013, Bapu was already in jail for a case of child sexual abuse, there is no chance that Sai could have attempted such an act," said Neelam Dubey, ashram spokesperson.
Meanwhile, right-wing groups came out in Chavhanke's defence, alleging that he is a victim of an 'international conspiracy' by 'jihadists'.
"We have solid proof that the woman who has accused Suresh is under the influence of jihadist elements, but we cannot disclose it to the media," said Yati Narsinghanand Saraswati, national convenor, Akhil Bharatiya Sant Parishad.
In a press conference organised in the city on Saturday, organisations such as Akhil Bharatiya Sant Parishad, Hindu Swabhimaan and Bharat Sadhu Samaj said Chavhanke is being victimised because he stood up for the 'Hindu cause'.
"Sudarshan news is the only channel that has raised the issue of Love Jihad and Hindu migration. Even other channels have not done as much for Hindus as Sudarshan news has. This is why we believe that an international conspiracy has been hatched by jihadists to defame Suresh and suppress Hindus," said Saraswati.
Close Story