People rush out of buildings as strong tremors shake Noida and Ghaziabad
Oct 27, 2015 05:51 PM IST
Tremors of a strong earthquake of 7.5 magnitude that jolted Afghanistan on Monday afternoon were felt across Noida and Ghaziabad
Tremors of a strong earthquake of 7.5 magnitude that jolted Afghanistan on Monday afternoon were felt across Noida and Ghaziabad.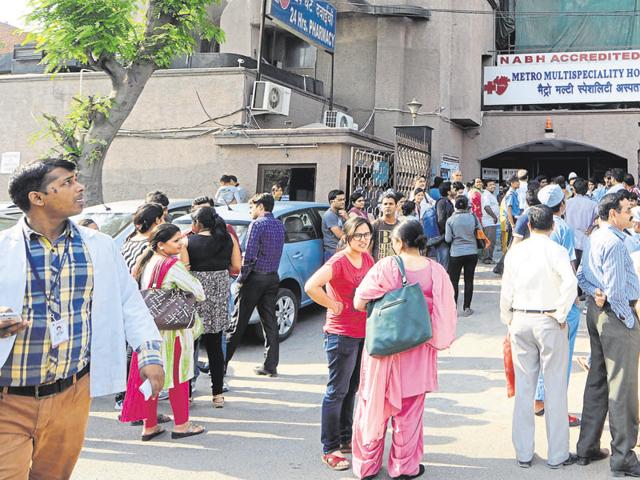 Both the cities fall under seismic zone-4, which is a high-damage category, according to the Indian Meteorological Department. Officials said there were no reports of any casualty or damage to property.
The earthquake shook many high-rises in the cities as glass panes, doors and windows rattled causing panic among the residents, forcing them to run out of their houses. The tremors lasted for nearly a minute.
Anxious people were seen standing on the streets of Noida and Ghaziabad. People did not enter their houses long after the tremors were over as they expected aftershocks.
"I was having lunch at home when I felt that the chairs and tables were shaking. It was then that I realised that it was an earthquake. I immediately rushed out of my house," said Arundhati Banerjee, a resident of 24-storey ATS Advantage Apartments in Indirapuram.
"I was at office at the time of the earthquake. Suddenly, I heard glass panes and doors rattle. Soon, people realised that it was an earthquake and everybody started running out of the building. We all took stairs and not lift," said Sukhesh Sarvaria, who works at an investment banking firm in Noida.
People, meanwhile, claimed that the mobile network went down for almost half an hour after the tremors.
According to the fire department of Gautam Buddha Nagar and Ghaziabad, no casualty or damage has been reported due to the earthquake.
"We have not received any complaints of any damage or casualty due to the earthquake," said Sunil Kumar Singh, chief fire officer, Gautam Budh Nagar.
Meanwhile, many people took to social networking sites to post pictures and information related to the tremors. Many social networking site users posted pictures of panic-stricken people standing on streets.
According to the National Centre for Seismology, the epicentre of the earthquake was the Hindu Kush mountain range in north Afghanistan.