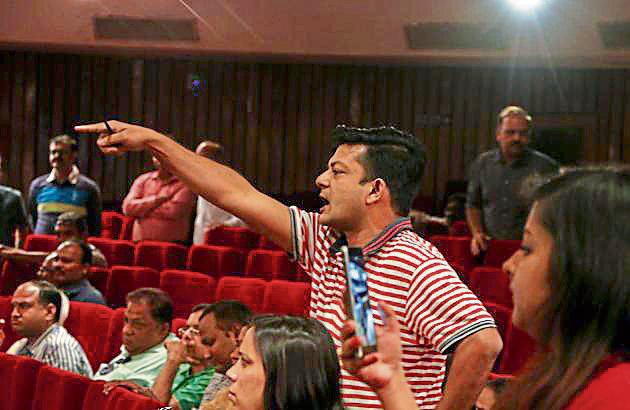 Ready to sell assets to deliver flats, Amrapali CMD tells Noida homebuyers
The Amrapali group was called for a meeting with homebuyers of three projects and Noida authority officials
Hindustan Times | By Vinod Rajput
UPDATED ON MAY 08, 2017 11:12 AM IST
The Amrapali group faced a lot of flak on Thursday as the Noida authority had called homebuyers from three of its projects in Noida in a tripartite meeting with the developer at the Indira Gandhi Kala Kendra in Sector 6.
Homebuyers from Amrapali Princely Estate in Sector 76, Amrapali Sapphire in Sector 45 and Amrapali Eden Park in Sector 50 were present at the meeting called by the authority to ensure that the builder resolves all issues related to these housing complexes to avoid facing legal action.
In response to homebuyers' demands, Anil Sharma, CMD of Amrapali Group, said, "I will complete all required facilities and also obtain occupancy certificate from the Noida authority soon. I am ready to sell my assets to ensure delivery of flats to homebuyers. We will submit tower-wise completion details within 10 days."
Homebuyers of the three housing complexes had complained of similar issues and said the builder had given possession of flats in incomplete buildings.
"Homebuyers of these three societies demanded getting flat registries executed and development of basic facilities such as lifts, fire systems, water connection and sewage treatment plants. I have given Amrapali Group 10 days to resolve all issues, submit tower-wise completion plan and financial details of all flats. If the builder fails to do so, we will initiate action against them," said Shishir Singh, additional chief executive officer (ACEO), Noida authority.
Apart from Singh, officials from the planning department and group housing attended the meeting. Homebuyers expressed anger against the Amrapali Group CMD Sharma and director Shiv Priya for 'cheating' thousands of people who invested their hard-earned money to buy a home.
"The builder has used the money collected from homebuyers in other businesses and for personal use. Amrapali has used extremely poor material for construction and left many towers unfinished in the Princely Estate project. The builder has given possession without even developing basic common facilities," said Seema Kumar from Sapphire society.
Homebuyers also demanded an investigation into the quality of construction material and action against illegal commercial areas built inside the premises.
"The builder has illegally constructed commercial areas that were not part of the project as per law. It has opened up these areas for outsiders to make more money. The illegal areas should be demolished," said Rakesh Garg, a homebuyer in Princely Estate complex. The Noida authority has assured that all illegal structures will be demolished soon.
"I have asked the staff to conduct a mock drill to check fire safety systems in Eden Park in Sector 50. I have also directed the Amrapali Group to submit precise details of each flat as to how much money the builder has received so far and how much it has to recover," said Singh.
Close