India-Asean summit: Modi's Act East policy has set new benchmarks
Jan 29, 2018 07:45 AM IST
This Republic Day showcased the new genre in Indian diplomacy, which is ambitious and confident. India's compulsions and ambitions to play a larger role in the region will sustain its engagement with Asean
In his characteristic style of managing foreign policy through mega events and action-driven engagements with world leaders, Prime Minister Narendra Modi hosted on Friday all 10 Asean leaders as chief guests at India's 69th Republic Day Parade. A similar event was first seen in May 2014 when Modi invited all the Saarc leaders to his swearing-in ceremony. Modi's hosting the Brics summit in October 2016 also saw an outreach summit organised with all seven leaders of BIMSTEC (Bay of Bengal Initiative for Multi-Sectoral Technical and Economic Cooperation). The last four years have been marked by Modi's foreign visits, huge get-togethers with India's diaspora abroad and road shows at home with leaders from China, Japan and, most recently, Israel.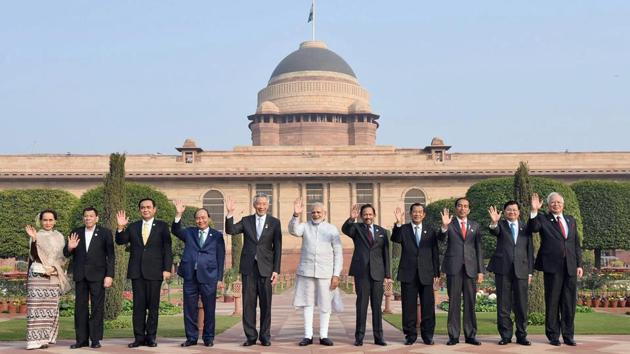 Together these mark a new genre in Indian diplomacy in which this presence of 10 Asean leaders will be remembered for setting new benchmarks in India's engagement with Southeast Asia.
This is important for a rising India as Asean represents the most institutionalised and most acceptable grouping for all major world powers. This has become increasingly critical given the global power shift from the Atlantic to the Pacific where these tiger economies stand next to by world's most militarised nations. The unprecedented rise of China is a shared concern, and Asean nations engage India as their alternative to an increasingly assertive China. However, neither side seems willing to confess or address this dichotomy of their dependence and discomfort with Beijing. Asean has failed to put up a joint front against China's building of artificial islands across the South China Sea where claimants like Vietnam and the Philippines have taken opposite trajectories of accusing and acquiescing with Beijing. India's confrontation with China at Doklam last year saw Asean wary of taking sides.
India's need to move over from a Look East policy to an Act East policy had been in public debates since the 2011 Hyderabad speech of US secretary of state Hillary Clinton. But it was formally enunciated by Modi during the 12th India-Asean summit in Myanmar in September 2014. The aim has since been to widen and deepen India's politico-security engagement in the Asia-Pacific with Asean at its core where Modi has sought to take it beyond, into socio-cultural and civilisational connect that underlines India's advantages over other world powers. Closer links of Buddhism and Ramayana from the first millennium has been revived to strengthen domestic constituencies for stronger relations.
The world media widely covering the 10 Asean leaders in a way marked these leaders' endorsement of India's growing integration into Southeast Asia which is nudging discourses on Asia-Pacific geopolitics towards the new Indo-Pacific formulation with India at its centre. No doubt China with a $12 trillion economy and a $450 billion trade with Asean remains the elephant in the room in all these parleys. Yet India and Asean together hold the potential to ensure China stays on course respecting norms and laws. This is where both India and Asean are now evolving flexible strategies of 'congagement' (containment and engagement) of China. The Delhi Declaration, for instance, talks of ensuring implementation of the United Nations Convention of Laws of the Seas in the South China Sea but also alludes to accepting China's lead in building the Regional Comprehensive Economic Partnership.
In view of the shrinking global role of the United States, India and Asean are following the example already set by European nations that are trying to stand on their own to ensure regional peace and stability. The Delhi Declaration underlines specific concerns about cross-border terrorism and freedom of navigation that commits them to an early implementation of various agreed projects, including their Plan of Action 2016-2020.
Juxtaposed with Modi's Neighbourhood First policy, his Act East policy saw Assam chief minister Sarbananda Sonowal invited to join the PM's dinner for the 10 Asean leaders. This enthusiasm is expected to further synergise linkages between India's Northeast and Southeast Asia. The birth of India's Look East policy coincided with the expansion of Asean. The addition of Cambodia, Laos, Myanmar, and Vietnam brought Asean to share borders with India. They were, accordingly, conceptualised to be at the centre of India's Look East policy and their connectivity with the tiger economies was to bring economic relief to their political turmoil. Now with the new focus on Act East, all eight Northeast states are expected to be connected by rail by 2020.
So, both its compulsions as well as its ambitions to play a major role in the region hold promise to sustain this new enthusiasm in India's expanding engagement with Asean.
Swaran Singh is professor, School of International Studies, Jawaharlal Nehru University, Delhi
The views expressed are personal