India is adapting to new peacekeeping priorities
Jan 10, 2023 08:13 PM IST
Peacekeeping operations have undergone a shift in the last two decades. They have become more violent and risky. As a result, simple ceasefire monitoring has now evolved into multidimensional missions
India has been a leading contributor to the United Nations (UN) peacekeeping operations since they commenced more than seven decades ago. To date, India has contributed more than 260,000 troops to UN peacekeeping, more than any other country. Even today, 5,800 Indian peacekeepers serve in conflict-ridden areas in Africa and Asia. Our peacekeepers are valued due to their professionalism and selfless devotion to duty. Indeed, more Indians have made the supreme sacrifice in peacekeeping operations than any other nationality.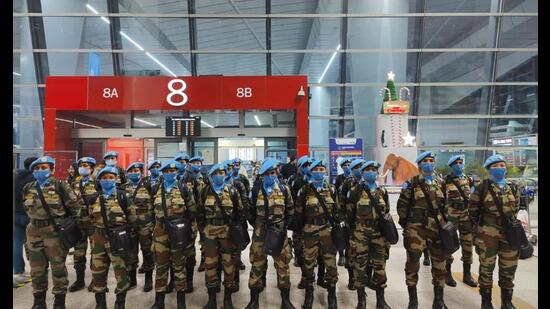 Peacekeeping operations have undergone a shift in the last two decades. They have become more violent and risky. Armed groups, terrorists, transnational criminals and other non-State actors are important players in most conflict areas today. They thrive on the failure of State institutions and attempt to break down social and political structures that provide security to society. Perhaps most significantly, they view civilians and peacekeepers as legitimate targets.
As a result, simple ceasefire monitoring has now evolved into multidimensional missions that seek to enforce and maintain peace, assist political processes, build institutions, protect civilians and aid development. As a responsible member-State, India has continued to contribute troops to such missions, and is also adapting to suit the needs of contemporary peacekeeping.
Today's peace missions depend heavily on civilian interaction to formulate objectives and policies. These missions realised two things: One, women and children were disproportionately affected by conflicts, and two, they were more amenable to communicating with female peacekeepers. These missions also recognised that women peacekeepers conferred another advantage. In many conflict zones, women were marginalised in development endeavours. Female peacekeepers served as examples that motivated women to join mainstream developmental efforts, particularly in the security sector.
India's women peacekeepers, part of the UN's first ever All Women's Formed Police Unit in Liberia in 2007, illustrated this. When they left Liberia in 2016, President Ellen Johnson Sirleaf thanked them for inspiring Liberian women to join security sector institutions. President Johnson's observations also proved true in other missions, where the presence of women peacekeepers helped mainstream women in developmental efforts.
Indian women have a rich legacy in peacekeeping. Our women engagement teams and individual officers, such as Kiran Bedi, UN's first police adviser, Major Suman Gawani, winner of the prestigious UN Military Gender Advocate of the Year Award, and Shakti Devi, recipient of the International Female Police Peacekeeper Award, have made a mark for themselves. In January, India deployed an all-women's platoon, specialising in community outreach and engagement tasks, in the conflict-ridden region of Abyei, on the borders of Sudan and south Sudan. India's single-largest deployment since Liberia, the platoon heralds the uniformed forces' endeavour to increase the presence of women in peacekeeping.
Advanced technology is ubiquitous in the contemporary security environment. So it is imperative that peacekeepers also have access to technology that counters hostile intent and helps them deliver mandates more effectively. Recognising this, India championed a presidential statement on technology in the UN Security Council in August 2021, enunciating the need to provide technological tools that improve peacekeepers' capabilities and focusing the Security Council and the UN secretariat's attention towards leveraging technology for more effective peacekeeping. India contributed $1.64 million in 2021 to roll out UNITE AWARE, a state-of-the-art situational awareness platform that will increase peacekeepers' effectiveness manifold.
Answering the UN's call for assistance in enhancing its technological base, India has signed a memorandum of understanding with the UN to provide qualified instructors to the Command, Control, Communications, Computers, Intelligence, Surveillance and Reconnaissance Academy in Entebbe, Uganda, which specialises in enhancing decision-making capabilities by exploiting digital tools.
Over the next few years, the Indian armed forces intend to diversify their military contribution to peacekeeping by deploying more technologically oriented systems that will improve peacekeepers' decision-making and response capabilities, making them more mobile, agile and flexible. Furthermore, in keeping with our concern for the environment, we also intend to deploy technologies that will lead to decreased dependence on fossil fuels and promote effective waste management, two areas of significant concern for the UN.
The safety and security of peacekeepers, not just from India but from all countries, have always been of paramount importance to us. Peacekeepers face hardships and dangers far from their countries, homes and families to preserve peace and protect populations threatened by violence. We have always held that protecting the protectors should be one of the highest priorities for the UN. Furthermore, we hold that bringing perpetrators of crimes against peacekeepers to justice would remove impunity for such crimes and act as a deterrence against them, thus enhancing the safety and security of our Blue Helmets.
In December 2022, India provided a practical impetus to Resolution 2589 of 2021 by launching a group of friends with other like-minded countries. The group will seek to harmonise the capabilities and efforts of stakeholders such as host States, the UN Secretariat, peace missions and the various rule of law and security-related entities to promote the accountability of perpetrators of crimes against peacekeepers.
Today, the world sees India as a nation central to global peace. Prime Minister Narendra Modi's assertion about this "not being an era of war" has found resonance in the Ukraine conflict and globally. As the UN grapples with the realities of asymmetric threats, socio-politically incoherent operating conditions and volatile and ambiguous security landscapes in the largest number of conflict zones since World War II, it naturally looks to responsible member-States, which have proven its credentials time and again through their steadfast commitment to the UN ideals, for counsel and capabilities, both of which India is uniquely poised to provide due to its expanding global relevance, niche technological abilities, and vast experience of peacekeeping.
Ruchira Kamboj is India's permanent representative to the UN.
The views expressed are personal