Three top priorities for India as G20 president
Nov 24, 2022 08:56 AM IST
India's G20 presidency, with its emphasis on the needs and claims of the global South, has to deliver a G20 development deal that addresses the concerns of weak and poor nations with no seat at the table
As India takes over leadership of the G20, it has to reckon with what Prime Minister (PM) Narendra Modi has labelled as "a time when the world is simultaneously grappling with geopolitical tensions, economic slowdown, rising food and energy prices, and the long-term ill-effects of the pandemic". Extreme polarisation between Russia and the West, intensifying rivalry between China and the United States, and the huge gulf between the G7 sub-group and the remaining emerging economies in the G20 about developmental and environmental priorities pose existential challenges to multilateralism. Yet, India's hosting of the G20 need not be seen as a poisoned chalice or a crown of thorns. With a focused strategy to address three fundamental problems, India can prove its mettle as a bridge builder and solution provider.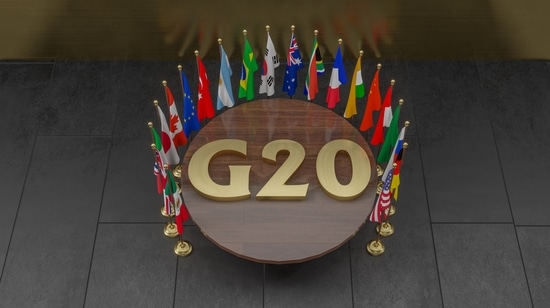 First, the global economy's slump has to be arrested through concerted moves by the G20, which has demonstrated crisis-fighting skills in the past. With the International Monetary Fund predicting a "broad-based slowdown" for the global economy in 2023 and warning that "the worst is yet to come," the G20 has to coordinate monetary, fiscal and trade policies that lift all boats.
As a rare bright spot among G20 countries with a relatively higher gross domestic product (GDP) growth, stronger public finances and booming exports (though weakening global demand is beginning to show its negative impact with a year-on-year contraction of 17% in October), India has the credentials to push for a consensus that ensures reckless policy changes aimed at tackling inflation, debt or deficits by powerful countries do not drag everyone else down. PM Modi's undertaking that "there should be no first world or third world, but only one world" can inspire a G20-wide responsible macro-economics pact.
Second, PM Modi's promise that India's G20 presidency will be "ambitious, decisive and action-oriented" is premised on the interconnectedness of the global economy and international geopolitics. No post-pandemic economic recovery is possible unless the fighting in the Russia-Ukraine war is paused. Fortunately, India is assuming the G20 presidency at a time when fatigue and exhaustion will be setting in, even among parties to the war in Ukraine. There is a window of opportunity to freeze the conflict in the coming winter lull, when neither Russia nor Ukraine can make sizable territorial gains, while leaving a final settlement to some future date.
In its capacity as the G20 chair, India can attempt to form a quartet with Saudi Arabia, Turkey and France (three neutral countries that have kept lines open with all sides in the war) and engage in small-group peacemaking efforts that will try to halt fighting in Ukraine for a definite duration. An international peacekeeping force, guaranteed by G20-level strategic guidance, could be deployed to monitor and verify ceasefires along the front lines. However, such a mediation initiative can only succeed if India teams up with G20 countries having leverage over the warring parties. Indonesian President Joko Widodo, while holding the G20 chair, did approach Russia and Ukraine in June to douse the flames. But the war was in a dynamic phase, and tempers were still at a fever pitch. The forthcoming winter stalemate in eastern Europe is an optimal moment for the G20, under Indian leadership, to stabilise the situation.
Of course, the systemic winds of fiercer geopolitical competition and a "new Cold War" will not ebb even if a ceasefire is obtained in Ukraine. But under India's leadership, the G20 can prove itself worthy of the expectations if it can ease one key hurdle to global economic recovery. PM Modi's formulation, "today's era must not be of war", made it into the G20 joint declaration in Indonesia. It is time for the G20 to act upon this noble aspiration.
Third, India's G20 presidency has to strive to convince non-G20 member-States and their people that their interests are being protected. The motto of India's G20 presidency, "One Earth, One Family, One Future", is universal and not confined to G20 members alone. While setting the G20's agenda and negotiating agreements on specific issues, India and other emerging nations within the G20 have to advocate for the least developed countries (LDCs) and secure fairer outcomes for them.
As the politics behind the recent COP27 climate conference in Egypt revealed, there is a strategy to divide emerging countries from the LDCs to dismember the Global South. India's G20 presidency, with its sharp emphasis on the needs and claims of the global South, has to deliver a G20 development deal that addresses the concerns of weak and poor nations with no seat at the table. India must rise to the occasion and deliver on these three critical benchmarks. The future of multilateralism is at stake.
Sreeram Chaulia is professor and dean, Jindal School of International Affairs
The views expressed are personal
Continue reading with HT Premium Subscription
Daily E Paper I Premium Articles I Brunch E Magazine I Daily Infographics