Ukraine: India must look beyond Russia
To side with Russia just for the sake of proving one's independent credentials is the precise opposite of strategic autonomy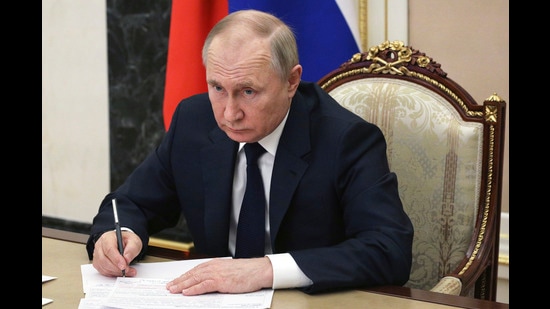 Updated on Mar 14, 2022 09:00 PM IST
The Russia-Ukraine war has given a new lease of life to an old question: Hum Aapke Hain Kaun, Russia? There are at least three common justifications for India's continued support to Russia. This article critically examines these reasons.
The first argument is that a strong relationship with Russia is imperative for India's strategic autonomy. According to this view, India picking Russia over the West when presented with a binary choice demonstrates India's strategic autonomy. Without such demonstrations, it is feared that India will effectively become a pawn in the geopolitical chess games of the West.
This view calls into question the logic of pursuing strategic autonomy as the ultimate goal of Indian foreign policy. Strategic autonomy is ultimately determined by national power. As a fast growing large economy and the world's second most human resource-rich country, India has sufficient weight and agency that deters others from treating it like a pawn.
It follows that gaining more strategic autonomy requires growing one's national power rapidly. And achieving this goal needs partners that have convergent interests, economic and military heft, and non-antagonistic values. In the current geopolitical moment, that would mean the West, and not Russia. As Russia's relations with China deepen, the India-Russia relationship will have even less bearing on India's strategic autonomy. To side with Russia just for the sake of proving one's independent credentials is the precise opposite of strategic autonomy.
The second reason relies on the erstwhile Union of Soviet Socialist Republic's (USSR) — and later, Russia's — support to India in the past. "The USSR helped India in the 1971 war while the US-backed Pakistan'', or "Russia has been a reliable partner through thick and thin for India" are some archetypal arguments in support of this line of thinking. However, Russia's reliability is exaggerated. The ultimate reliability test would be if a State has taken a self-harming action in India's interest. For many, the USSR met this criterion in 1971 by deploying destroyers and submarines in the Bay of Bengal to ward off the US Task Force 74. What's forgotten is that four months before the war, India and the USSR signed an Indo–Soviet Treaty of Peace, Friendship and Cooperation. India had effectively allied with the USSR. The USSR's actions were at best in mutual interest.
This argument also suffers from cherry picking. In the 1962 War, the USSR remained cold to India's concerns. In recent times, Russia has backed the Taliban in Afghanistan and collaborated with Pakistan and China, while the Indian government continued to support the legitimate Islamic Republic of Afghanistan. Most importantly, Russia's reliability is under serious question going ahead as it becomes a much weaker partner, heavily dependent on India's foremost adversary — China.
The third reason is military dependency. We have been repeatedly reminded that in the last decade alone, Russia has accounted for nearly 62% of India's total military imports. And hence, India has little choice but to stand with Russia. This argument seems persuasive. However, there are two under-appreciated angles to this dependence.
One, military supplies to India from Russia are highly likely to be hit regardless of India's relationship with Russia. The unprecedented technology sanctions and the targeted economic sanctions make it difficult for Russia to develop new weapons going ahead. Even if Russia manages to circumvent these sanctions — as it will — its focus will shift to building its military might with its now scarce resources. Critical military exports will take a backseat in the short-term.
Two, the 62% dependence figure hides more than it reveals. It comprises both substitutable and non-substitutable elements. Some items, such as spares for the T-72 tanks are substitutable as there are other suppliers. Besides, a whole global arms equipment market exists, with multiple sellers and repairers. Russia should be seen as a chosen vendor and not a benefactor for such substitutable equipment.
On the other hand, there are some not so easily substitutable elements. The top of the line S-400 surface-to-air missile system, the planned lease of two nuclear-powered submarines, and the collaboration on the BrahMos cruise missiles are some examples. Besides the equipment, Russia has also been more open to technology transfers. Reversing India's stance on such systems requires a significant change, not just in India's calculations, but also in the attitude of the United States. The cooperation on nuclear-powered submarines under the AUKUS arrangement shows that the West is finally willing to share sensitive technologies with partners to counter China. It is thus in the West's interest to apply this new technology alliance mindset to India. As more options become available, India will find it easier to reduce its dependence on Russia.
Of the three reasons, the military dependency argument cannot be set aside easily. However, it should not be used as a veto to constrain India's options on key geopolitical questions. The world order is changing fast. Inertia and over-reliance on older models are no longer the best guides for the future.
Pranay Kotasthane is chairperson, high tech geopolitics programme, the Takshashila Institution The views expressed are personal
Enjoy unlimited digital access with HT Premium
Subscribe Now to continue reading
Topics
Close Story
Personalise your news feed. Follow trending topics