Rahul Aware wins gold, silver for Babita Kumari in 2018 Commonwealth Games wrestling
Rahul Aware outclassed Steven Takahashi of Canada to win the 57kg freestyle class of the 2018 Commonwealth Games in Gold Coast. Babita Kumari settled for sliver in the 53kg women's segment.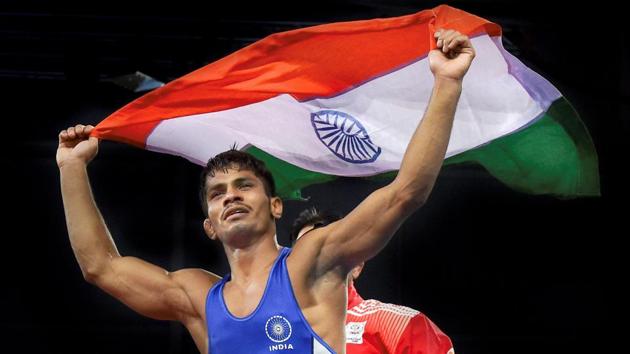 Updated on Apr 12, 2018 11:12 PM IST
India started the Commonwealth Games wrestling competition with a bang by winning four medals, two of them gold, with the spotlight firmly on two wrestlers, Sushil Kumar and Rahul Aware, who have had contrasting fortunes in the last decade. (CWG 2018 updates)
While Sushil went on to win two Olympic medals, Aware was dismissed as someone lacking big-match temperament. On Thursday, while Sushil looked too good in his weight category, Aware's determination to prove his detractors wrong was the driving force behind his success.
Though the competition at the Commonwealth Games in wrestling is nowhere compared to the Asian or world level, it was important for both Sushil and Aware to win for different reasons. While Sushil need the medal to deflect attention from the various controversies surrounding him of late, Aware needed this success to motivate him for bigger challenges — and also the government largesse that comes with winning a CWG medal.
READ MORE | Sushil Kumar decimates opponents to win gold in 2018 Commonwealth Games
Aware (57kg) started the gold rush before Sushil outwitted his opponent to win the 74kg category — his third straight CWG gold.
In the women's section, Babita Kumari settled for silver in 53kg, while Kiran earned the 76kg bronze. The medals swelled India's Games kitty to 29 (14 gold, six silver and nine bronze). India are third in the rankings behind runaway leaders Australia and England.
The star of the day was Sushil, the larger-than-life double Olympic medallist who had overcome injuries and controversies to be in Gold Coast. Sushil's domination was summed up by the way he went about his business in the final bout against Johannes Botha of South Africa.
The Indian, after the initial exchange of grips, went for his moves, bouncing Botha around at will. The South African, who said he was not overawed by the reputation of his opponent, seemed to have lost his bearings momentarily, forcing the referee to end the bout, with Sushil earning a 10-0 (technical superiority) win. It was a blink-and-you-miss bout that lasted just 80 seconds.
READ MORE | How 2018 Commonwealth Games cost Indian wrestling stars a World Cup shot
Sushil started the day with an 11-0 decimation of Jevan Balfour of Canada, winning by technical superiority. He didn't waste time against his quarter-final opponent either — Muhammad Asad Butt of Pakistan. Sushil won again by technical superiority, scoring points from takedowns to close the bout 10-0 early in the second period.
He had a relatively less assertive outing against Australia's Connor Evans in the semi-final, winning it 4-0.
Aware, the former Asian Championships bronze medallist, beat Steven Takahashi of Canada 15-7 to win gold in the 57kg category. The Indian used his experience to figure out the weakness in Takahashi's armour — he was prone to single-leg takedowns, which also happens to be Aware's bread-and-butter technique. The Indian, who hails from Beed district in Maharashtra, said he was happy to have ended a 10-year wait for a major medal.
Babita Kumari lost to Canada's Diana Weicker to settle for silver in women's 53kg. With just five wrestlers in the fray in the class, the competition followed a round-robin format with each wrestler taking on the other four. Babita and Weicker reached the virtual summit clash after winning three bouts each.
Close Story