Commonwealth Games 2018: Sharath Kamal keen on another masterstroke
Australia has a special place in Sharath Kamal's heart. More than a decade ago, Indian table tennis' poster boy won two gold medals at the 2006 Melbourne Commonwealth Games in what was still early days in his career.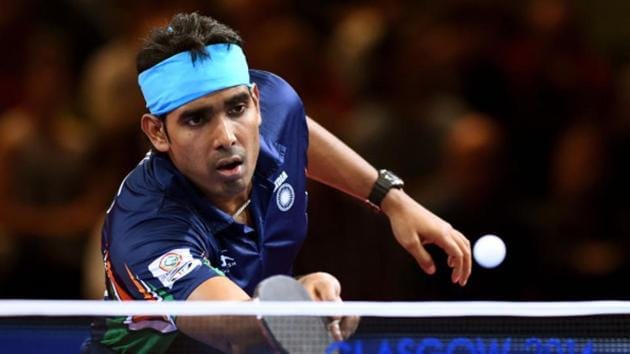 Updated on Apr 02, 2018 08:20 AM IST
The showpiece event returns Down Under and Sharath Kamal would be expected to inspire his younger team-mates – especially in the wake of Soumyajit Ghosh's unexpected exclusion from the squad over an alleged rape accusation.
World No 71 Kamal would have by his side world No 49 Sathiyan Gnansekaran, Harmeet Desai (No 66) and Anthony Amalraj (No 93). World No 58 Soumyajit was also an experienced hand but his exclusion means that Sanil Shetty (No 72) may get a chance to represent India in the men's section.
In the women's section, world No 66 Manika Batra, Mouma Das (No 71), Madhurika Patkar (No 108), Pooja Sahasrabudhe (No 169) and Sutirtha Mukherjee (No 343) will be India's contenders.
READ: Commonwealth Games 2018: IOA silent on syringes found in players' rooms
The 10-member Indian squad is being coached by Italian Massimo Constantini and they have been in training and competing Germany of late.
India's chances
Indian table tennis side has been seeded second behind England in the team event and it speaks volume about India's prospects. The absence of traditional table tennis powerhouses like China has meant that India almost always put up a good show.
READ: Commonwealth Games 2018: Ashish Kumar, Aruna Reddy can floor rivals in gymnastics
However, that was not the case in the 2014 Glasgow edition where Indian paddlers won only one medal – silver in men's doubles (Kamal and Amalraj). It was a far cry from the three medals (two gold, one bronze) in the 2006 edition and the five medals (one gold, one silver and three bronze) in the 2010 New Delhi edition. Indian paddlers have won 12 CWG medals in all.
However, this time around the table tennis team team is expecting three to four medals from the Gold Coast CWG.
Top performers
In the men's singles, Sathiyan and Sharath Kamal will be the two players to watch out for. While Sharath Kamal has massive experience on his side, Sathiyan's recent form has been impressive.
READ: Commonwealth Games 2018: Indian basketball aims for giant leap in Gold Coast
Sathiyan is only the second Indian player to win two ITTF singles event. In his maiden CWG, the 25-year-old will have three higher-ranked players to deal with Nigeria's Aruna Quadri (22), Singapore's Gao Ning (33) and England's Paul Drinkhall (46).
In the doubles section, if Sanil Shetty is included then he can combine well with Amalraj or Sharath Kamal. Their left-right combine has the potential to upset other big names.
In the women's section, Manika Batra has shown significant progress in the last couple of years. She and Mouma Das would be expected to bring home a medal in the women's doubles section.
Apart from that, India have the potential to get a medal in the team event too.
Close Story