Dope tests in banned Almaty lab robs Indian athletes of national records
Dutee Chand's national record in Almaty which secured her a berth in the Rio Olympics, will not be considered as the Almaty lab in which the urine samples were tested has been suspended by the World Anti-Doping Agency (WADA).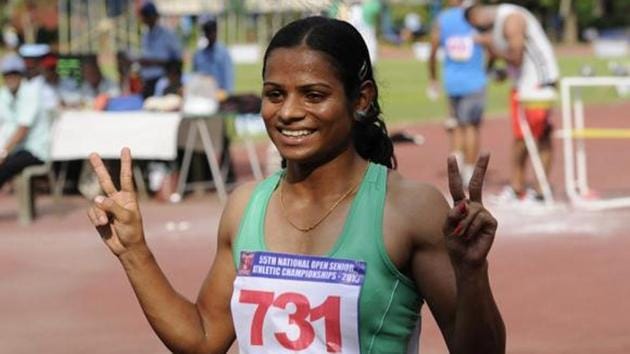 Updated on Mar 04, 2017 06:33 PM IST
The absence of valid dope tests has caught the Athletics Federation of India (AFI) on the wrong foot.
At its executive council meeting in Gurgaon last weekend, the AFI failed to ratify the national records set by some top athletes in Almaty (Kazakhstan) ahead of the Rio Olympics.
Sprinter Dutee Chand and long jumper Ankit Sharma earned Rio berths as a result of their performance in Almaty, but the records will not be considered as the urine samples were tested in the Almaty lab, which was suspended by the World Anti-Doping Agency (WADA).
Despite being aware, the Indian team opted to have the samples tested at the Almaty lab.
Tony Daniel, technical head of the AFI, said necessary anti-doping papers are a must when national records are approved. "It is one of the factors taken into consideration when the executive council ratifies records," he said.
Besides Dutee and Ankit, the women's relay team also broke the 4x100m national record by clocking 43.42 seconds. The team wasn't able to qualify for the Olympics as it did not make it to the top 16.
On June 24, WADA suspended the accreditation of the anti-doping laboratory in Almaty for a period of four months. During suspension, the lab cannot conduct dope tests.
On June 26, Dutee set a national record of 11.24 seconds in the 100m final at the 26th G Kosanov Memorial Meet to become the first Indian woman athlete to qualify for the Olympics after 36 years. She had clocked 11.30 secs in the heats while the Rio qualification mark was 11.32 secs.
Ankit recorded a jump of 8.19m, a personal best and national record. It was also better than the Rio qualifying mark of 8.15m.
On July 4, Dutee, Srabani Nanda, HM Jyothi and Merlin Joseph broke the 4x100m record by clocking 43.42 seconds. The previous best was 44.03 seconds.
Even some records created at home have not being ratified. "We are awaiting valid papers from NADA (National Anti-Doping Agency)."
Dutee's coach N Ramesh said he wasn't aware that the Almaty lab was suspended. "We did our best and it's up to the federation to consider the performance. Dutee had also set a national record on home soil, and on both occasions dope tests were conducted."
For the record, 34 athletes had qualified for Rio, but shot-putter Inderjeet Singh, sprinters Dharambir Singh and Priyanka Panwars failed dope tests and were dropped from the Indian contingent.
Close Story