'Edgy' MacLaren slips from lead but hopes to turn it around
Updated on Oct 04, 2019 09:04 PM IST
It's a strategy that paid off at a time when it was about grinding it out as one missed cut followed another.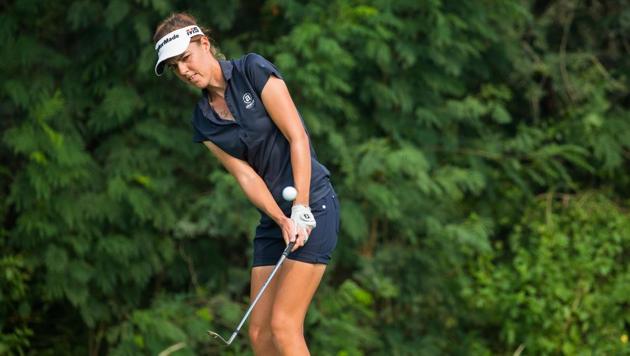 Now that a bad round has followed a good one, the situation is ideal for Meghan MacLaren to put her training in use. Friday's one-over 73 saw her slip from joint lead to two back at the Hero Women's Indian Open, but that's the way she keeps telling herself golf is played.
"There is always tomorrow," said the 25-year-old from Cambridge, England, after Day Two at the DLF Golf and Country Club. It's a strategy that paid off at a time when it was about grinding it out as one missed cut followed another.
MacLaren started last year aware that her "golf was not in the best space", and despite failing to make the weekend rounds in the season's opening two events on the Ladies European Tour, she was hopeful on arrival in New South Wales. "A thing or two can turn it around," she said on the factors that were instrumental in her first win on Tour that week. Belief was in place but not much seemed to have changed at play as she shot even-par on the opening day.
That was when MacLaren decided to push herself by inducing a state of nervousness. "It may not work for a lot of people but getting edgy (when in contention) brings the best out of me."
So, when MacLaren worked her way up the leaderboard and went into the final day with a two-shot lead, the media talk of "it is for you to win or lose the tournament" worked to her advantage. "I liked it as you cope with the pressure and come out of it telling yourself this is where I want to be," she said.
MacLaren can't say if familiarity helped her defend the title this year, but she can confirm that the tactic worked this time as well even though the scenario was different. A top-six in Canberra preceding her title defence, it was the pressure of living up to the champion's tag. Tied for the lead, MacLaren knew she was playing well but midway through Sunday the "edgy feeling" set in. That fired her up, and she broke away for a comfortable three-shot win.
Although the opening rounds this week have been in contrast, putting the tactic in use on Friday left her happy to "just hang in there" behind the leader.
Leaderboard
138: Whitney Hillier (67, 71)
139: Marianne Skarpnord: 68, 71
140: Linda Wessberg 69, 71; Meghan MacLaren 67, 73
Best Indian
142: Amandeep Drall 72, 70
(Cut applied at seven-over 151).