India beat Malaysia to book semis berth in men's hockey at 2018 Commonwealth Games
With one preliminary match to go, Indian men's hockey team is on top of Pool B after the 2-1 win against Malaysia in the 2018 Commonwealth Games (CWG). Harmanpreet Singh scored twice from penalty corners while Faizal Saari (16th) reduced the deficit for Malaysia.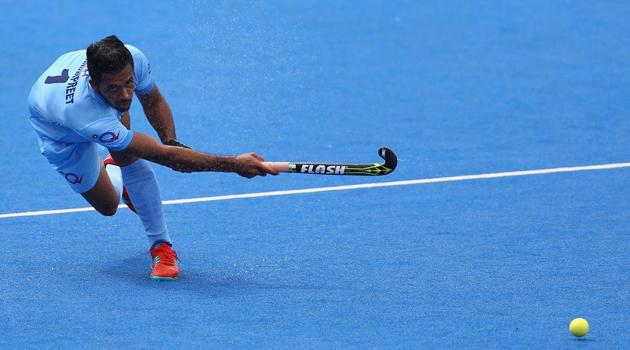 Updated on Apr 10, 2018 06:37 PM IST
"Even when you are not playing at your best and still are successful then something beautiful is going to happen to you," said Indian men's hockey team coach Sjoerd Marijne after his team scampered to a 2-1 victory against Malaysia at the Gold Coast Hockey Centre on Tuesday. (CWG live updates)
The way things are going, Marijne side needs not one but a series of beautiful performances so as to fulfil their dream of winning the gold medal. He should be hoping that his team turns things around from the next match onwards, their last Pool B encounter against England.
"Things are coming around. They have not reached the level I want them to be but they are coming around. I am happy that we won the match. The performance was definitely better than what it in the last match against Wales," said the Dutch coach.
It was India's second win Pool B as they moved to seven points from two wins and a draw and confirmed their berth in the semi-finals.
READ MORE | Jitu Rai, badminton and table tennis add to India's gold rush in Gold Coast
Drag flicker Harmanpreet Singh scored a brace off penalty corner conversions while Faizal Saari scored the lone goal for Malaysia in a match in which the Indians gave their rivals a lot of leeway to dictate terms in the second half.
Harmanpreet scored In the third minute when India earned their first penalty corner.India held a slight edge in the first quarter though Malaysia earned a penalty corner but failed to capitalise.
However, Malaysia's seasoned forward Faisal Saari could not be denied in the first minute of the second quarter as he capitalised on a good counter attack that came when Indian forward SV Sunil was dispossessed in the final third.
The ball was passed to Saari in the shooting circle and he did not make any mistake to level scores.
READ MORE | Commonwealth Games: 63-year-old grandfather, who smashed Joel Garner in cricket, eyes shooting gold
India had an opportunity to take lead in the next minute when they earned a penalty corner but Varun Kumar missed the chance. Mandeep Singh and Gurjant Singh too got chances in this quarter but could not convert as the teams went into half-time tied 1-1.
The Indians came out with a little more purpose in the third quarter and earned their third penalty corner in the 32nd minute but Harmanpreet shot wide.
Malaysia too earned a penalty corner soon after but Sreejesh pulled off a good save. The seasoned goalkeeper was again at it when he thwarted Saari in the 35th minute.
India earned a series of five penalty corners and on the last one Harmanpreet was successful as he shot high into the right top corner to make it 2-1 for India.
READ MORE | Yohan Blake beaten by South African duo at 2018 Commonwealth Games
India had couple of good chances at the start of the final quarter, Off a quick counter, Mandeep was put in the clear inside the D by Manpreet.
The lanky forward made a quick turn and took a shot but the Malaysian goalkeeper brought off a good save.
The Indians went on the defensive in the last quarter but the Malaysian were not able to stitch together good attacks.
Shahril Saabah's shot was well stopped by Shreejesh in the goal while India too failed to capitalise on two penalty corners.
Overall it was a well fought match in which both teams failed to put up a good show.
But as India coach Sjoerd Marijne said, in the end what mattered for India was that they won. The challenge now is to beat England on Wednesday and top group.
That would be crucial in avoiding the in-form reigning World Champions Australia.
Women's team enters semis
Meanwhile, the India women's hockey team defeated South Africa 1-0 in its final Pool A game on Tuesday.
Captain Rani Rampal's 47th-minute field goal proved to be the difference during the match.
Following the result, India remained second in the Pool A with nine points -- same as top-placed England but behind on goal difference.
Third-placed South Africa have four points with a match left. They will meet fourth-placed Wales, who have three points.
Close Story