Indian Weightlifting Federation backs Sanjita Chanu, hits out at timing of suspension
2018 Commonwealth Games gold medallist Sanjita Chanu is facing a four-year ban after testing positive in a dope test.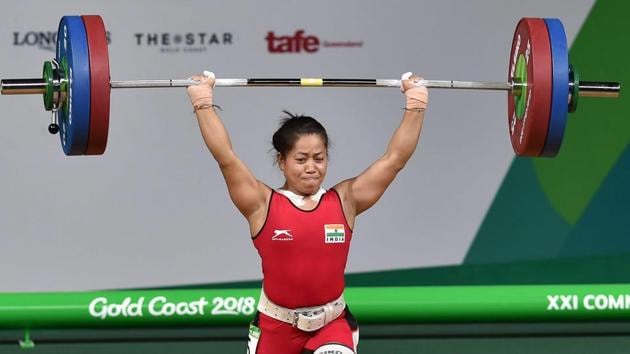 Updated on Jun 02, 2018 12:55 PM IST
Hindustan Times, Mumbai |
HT Correspondent
The Indian Weightlifting Federation (IWLF) has come in the support of Commonwealth Games gold medallist, Sanjita Chanu, who has been provisionally suspended by International Weightlifting Federation (IWF) for taking performance enhancing drugs.
Chanu, who won gold in the women's 53kg class at the CWG in Australia in March, was tested positive for the anabolic steroid testosterone. If proven guilty, she can be banned for four years.
IWLF, though, has hinted at a foul play questioning the delay on the part of IWF in sending the reports considering the fact that the tests were conducted last year after the World championship in September.
READ | Sanjita Chanu claims she's innocent, will challenge suspension
"If they had information of Sanjita's positive test in January, why didn't they prevent her from participating in the Gold Coast Commonwealth Games in April," IWLF secretary Sahdev Yadav was quoted as saying by The Hindu.
Yadav also brushed aside IWF's claim of sending an e-mail to Sanjita to inform her about the positive test in January. The e-mail, according to the IWF, didn't reach the lifter as it bounce out.
"We asked them to send the e-mail they are claiming to have sent to us earlier. Fifteen days have passed and we have not received anything. National Anti-Doping Agency (NADA) was also informed about Sanjita's positive test on May 15," added the report in The Hindu.
Defending the Manipur lifter, Yadav said the IWF would support her fully in the case as she appeared innocent.
"She has been tested many times since the Commonwealth championship in September last year. She was tested by NADA before going to the USA and after her return from there. She was tested again during the Commonwealth Games.
READ | Sanjita Chanu relieved after proving critics wrong with gold at 2018 Commonwealth Games
"She did not test positive when her performance in the Commonwealth championship (total of 195kg) and Commonwealth Games (192kg) was up, while it is surprising that she returned a positive result in the World championship where her performance was down (177kg).
"We are backing her because we are sure that she is innocent. There must be some issue with her sample," he was quoted as saying by The Hindu.
Yadav informed that the IWFL had informed the IWF about its grievances and would now wait for the hearing process that is to take place following the 'B' sample testing.
Topics
Close Story