Mick Schumacher, Harrison Newey win MRF Challenge races, Nayan triumph in 1600 class
Published on Jan 29, 2017 09:46 PM IST
Mick Schumacher won another race at Round 3 of the MRF Challenge at the Buddh International Circuit, beating Joey Mawson and Harrison Newey to the chequered flag. In the second race of the day, Newey triumphed. In the MRF 1600 class, Nayan Chatterjee edged out Anindith Reddy to win.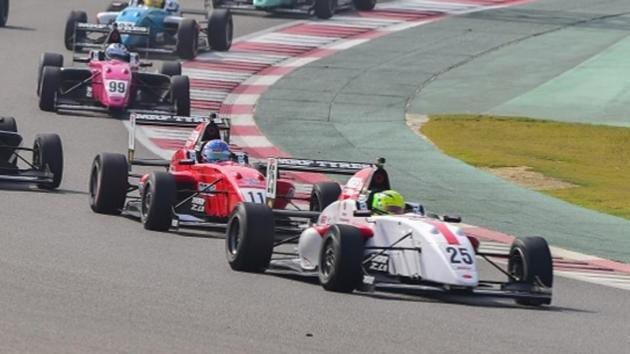 Hindustan Times, Greater Noida |
HT Correspondent
Mick Schumacher took another commanding win at Round 3 of the MRF Challenge at the Buddh International Circuit ahead of Joey Mawson and Harrison Newey. In the second race of the day Newey struck back to take his first win of the weekend in an action packed race as Schumacher, so of Formula One legend Michael Schumacher, crashed out.
Ralf Aron and Joey Mawson completed the podium. Mawson continues to lead the championship on 211 points.
Meanwhile, Nayan Chatterjee put in an inspired effort to hold off Anindith Reddy to win his first ever race of the MRF 1600 championship.
In the second race of MRF 1600, reverse grid pole sitter Alex Bora held on to the lead at the start only to lose out to Chatterjee in the opening lap. Reddy passed Bora and started to close in on Chatterjee and on lap 4 got past him to take the lead. The next two laps saw an intense battle ensue with both drivers trading places at the front.
Read more | What made Asia Pacific rally champion Gaurav Gill drive into motorsport history
With three laps to go Chatterjee took the lead and stayed in front. Reddy finished in second with Race 1 winner Ananth Shanmugam recovering well to finish third.
In the MRF Challenge, Schumacher, on pole, got the perfect start to lead into the first corner. Front-row starter Newey once again losing out at the start, this time to Joey Mawson. Newey briefly got past Mawson down the main straight only for the Australian to take the position back going into corner 4. As Mawson and Newey continued to battle, Schumacher pulled away at the front. Schumacher crossed the finish line in first, taking his second win in three races. Mawson fended off Newey to finish second.
Read more | Formula One gets new boss after Bernie Ecclestone replaced in Liberty takeover
Schumacher was happy to continue his impressive form at the BIC. "I had a good start and with both these guys (Newey and Mawson) battling behind me I had the chance to pull away. It is a shame about the last race but am pretty happy about the entire weekend," added Schumacher.
Newey commented, "I have had trouble with my starts the entire weekend so it was good to finally have a good start. I have had the pace in all the races but tough to overtake here. This is a good way to end the weekend."