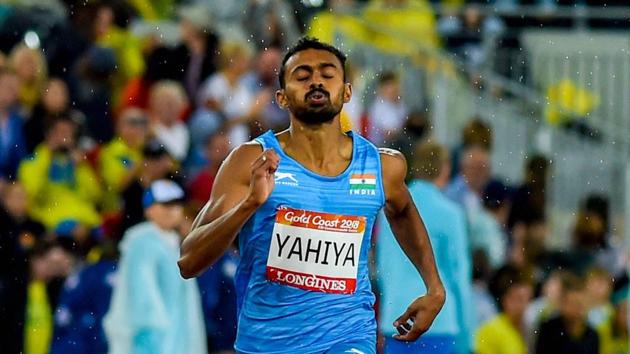 Muhammed Anas gets deadline to join camp after 2018 Commonwealth Games heroics
Muhammed Anas, who finished fourth at the recently concluded Commonwealth Games has been told by Athletics Federation of India (AFI) to join national camp rather than train with his personal coach.
UPDATED ON APR 17, 2018 08:44 AM IST
The joy of finishing fourth with a superb timing of 45.31 seconds — a national record in the men's 400m final at the Commonwealth Games in Gold Coast — is yet to sink in, but Muhammed Anas is embroiled in the tug-of-war involving his personal coach PB Jaikumar and Athletics Federation of India (AFI), over training venue for the Asian Games in August.
Last year, in the buildup to the season's first major competition, top quarter-milers, including Anas, had snubbed foreign coach Galina Bukharina and trained with his personal coach in Kerala.
'Change routine'
However, the AFI isn't keen that Anas follows the same routine for the Asiad. The federation, it is learnt, has informed Anas to join the national camp at Patiala on his return from Gold Coast.
However, Anas' coach has raised concerns about AFI's diktat.
"I believe the federation should allow him to train closer to his home town. Besides, changes in the training method could hamper his progress," said Jaikumar.
READ | India lay foundation for Tokyo Olympics with big show at 2018 Commonwealth Games
According to Jaikumar, nerves cost Anas a podium finish in Gold Coast.
"Since it was his first final at the international level, he was overawed by the field. He failed to judge the pace in the first 200m.
Instead of 21.2 secs, he clocked 21.6 secs in the first half of the race. It made the difference on the home stretch as he wasn't able to push hard," said Jaikumar, adding that his ward had the potential to further improve his timing in the Asian Games.
Room for improvement
The coach is hopeful of Anas getting an entry to the prestigious Diamond League.
"A couple of good races at the international level will certainly add to the confidence and polish Anas' skills ahead of the Asiad," he added.
READ | 2018 Commonwealth Games boss sorry for dull closing ceremony
In the past, Anas had failed to repeat his home performance in major international competitions, including the Rio Olympic Games. But he broke that jinx at Gold Coast.
"There was improvement because he was training under one coach. In the national camp, there is frequent change in the coaching staff," he added.
Strange policy
The AFI's policy to concentrate on relay events — especially 4x400m — is forcing many runners to train on their own. Take for example, former national record holder in 400m hurdles, Joseph Abraham, who claimed gold in the 2010 Asian Games in Guangzhou, but failed to qualify 2008 Beijing and 2012 London Olympic Games because he was pushed to compete in the relays.
After setting a national record of 49.51 secs during the 400m hurdles semi-finals of at 2007 Worlds in Osaka, he hardly got a chance to compete over the distance at the world level.
Olympian and 400m national record holder Manjeet Kaur too was pushed into relays because of which she could not improve upon her personal best timing of 51.05 secs, which is also the national record.
Close