Nico Rosberg is just a world champion, not among F1 greats: Bernie Eccelstone
Published on Dec 07, 2016 04:05 PM IST
Formula One supremo Bernie Ecclestone doesn't think that Nico Rosberg, who announced his retirement, is in the same league of his Mercedes teammate Lewis Hamilton, Sebastian Vettel and Fernando Alonso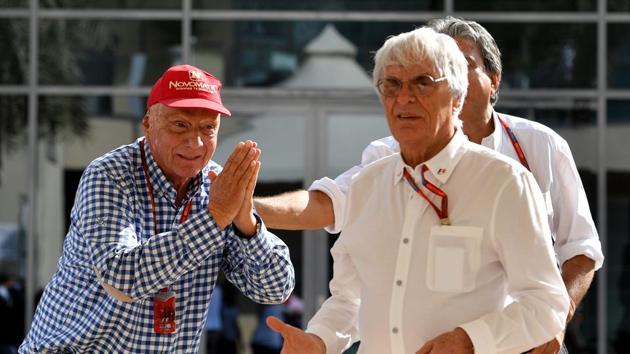 Bernie Ecclestone says Nico Rosberg's shock retirement is certainly not good for Formula One but the German will only be remembered as one-time World Champion and not a great of the sport.
Rosberg's decision, though widely respected, opened a debate over the timing of his retirement, which came five days after he secured the world title at the season finale in Abu Dhabi.
Can he be put in the same league of his Mercedes teammate Lewis Hamilton, a three-time champion, or the likes of Sebastian Vettel and Fernando Alonso, who have won four and two titles respectively? Formula One supremo Ecclestone doesn't think so.
"Well, let's just say he is a world champion. The other names that you mentioned (Hamilton, Vettel, Alonso) have obviously won more than a few times and have achieved more. So I would just call Nico a world champion and nothing else," Ecclestone said.
However, he insists Rosberg's absence from the grid is a loss to the sport.
"Okay, not as popular as Lewis but Nico was a very popular driver. So his absence is certainly not good for Formula One," said Ecclestone, who was lifted off his feet by a jubilant Rosberg minutes after he finished second at the Yas Marina Circuit to clinch the world title.
The 31-year-old drove his heart out the entire season to halt the juggernaut of Hamilton, who was denied his third title in a row in Abu Dhabi.
With his feat, Keke Rosberg and Nico became the only the second father-son duo to be crowned as world champions.
His sudden retirement has created a coveted slot at Mercedes, who have been the Constructors' Champions for the past three seasons. It is no secret that Mercedes are considering the experienced Alonso for the job along with others.
If Alonso finds way out of his contract with McLaren and joins Mercedes, it will be the second time that he would partner Hamilton, forming a mouthwatering partnership.
"A lot of people are linking Alonso with the Mercedes drive but I would like to wait and see what decision the team takes. He is a fine driver without a doubt," said Ecclestone.
On the new technical regulations in 2017 and the way ahead for Formula One under new owners Liberty Media, the 86-year-old added: "Formula One remains big but I think it is too early to talk about how it would be with new owners taking charge"
Close Story
Personalise your news feed. Follow trending topics