On 'familiar' turf, Anirban Lahiri hopes to replicate Delhi Golf Club success at Carnoustie
Hindustan Times, Carnoustie |
Joy Chakravarty
Jul 18, 2018 09:43 PM IST
Anirban Lahiri believes the feel-good factor will stand in his favour when he makes his sixth attempt at The 147th British Open starting in Carnoustie on Thursday.
Despite having an unusual preparation to his Open Championship campaign this week, there is a spring in the steps of Anirban Lahiri.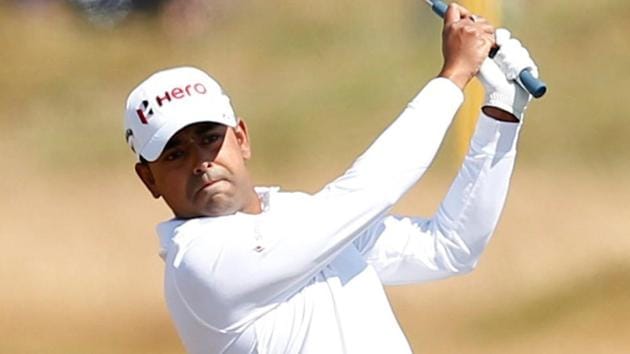 The 31-year-old, who resides in the West Palm Beach area of Florida as he plies his trade on the PGA Tour, is making his sixth appearance in the oldest Major – a record for Indian golf.
After struggling at the beginning of the year, Lahiri has rediscovered his golfing mojo and can also bank on his experience of playing links courses as he looks forward to better his best result of T30 at the 2015 Open in St Andrews.
But this week has not been a bed of roses.
Lahiri flew in from the US on Sunday, but has managed only 20 holes of practice on a golf course that has been called challenging and brutal. The mattress at the house he rented led to three sleepless nights and a crick in the shoulder restricted him to being a spectator after playing two holes with Shubhankar Sharma.
"Hopefully, I have put that issue to bed!" said Lahiri after moving into a hotel on Wednesday.
READ | British Open debutant Shubhankar Sharma up for Carnoustie challenge
"It's been a strange build-up. I have usually played the Scottish Open before the Open, which I have not done this year. The preparation has not been like what I am used to at a Major, but I am not nervous or feeling ill-prepared. On the other hand, sometimes you do get a tendency to overplay and over-practice at times.
"I am happy with where my game is right now, and I like the look and feel of this golf course. There is no fear of unknown. I have played enough Opens to feel familiar and comfortable with the courses and atmosphere. I even recognize some of the security guards here."
Lahiri has put a different perspective to Carnoustie, comparing it to the Delhi Golf Club (DGC), where he has had phenomenal success, including winning the Indian Open and three titles on the Asian Tour.
"I am going to play it a la DGC. The terrain may not be similar, but I need to get that same mindset I use there," said the world No 104, who made a hole-in-one on his Open debut in 2012.
READ | Fast Carnoustie fairways give Tiger Woods hope of another British Open win
"The ball is running like crazy here, it does over there as well. You need to avoid running into the bushes and almost thread your tee shots. You have to do the same here except that the bushes are replaced by pot bunkers."
Lahiri started his PGA Tour season with two top-10s in a row, but the first five months of 2018 proved frustrating as he switched to new clubs and balls. However, he has managed to arrest the slide and played well in his last six starts, including shooting 18 sub-par scores in his last 24 competitive rounds.
"My golf is closer to where it needs to be. I have had to manage a lot of transitions this year – change of equipment, caddie and other things. I had some issues with my swing and I flew my coach Vijay (Divecha) to the US and sorted that out. It has been a bit tumultuous, but I am putting it behind me now and am excited for this week and the future."