R Praggnanandhaa, 12-year-old chess whiz kid's success mantra: Comedy and Pogo
Updated on Nov 30, 2017 05:33 PM IST
Rameshbabu Praggnanandhaa, a 12-year-old chess player who just missed out on becoming the youngest Grandmaster in history during the World U-20 Junior Chess championship in Italy, does not delve too much into mistakes and chills out in his spare time by watching cartoons.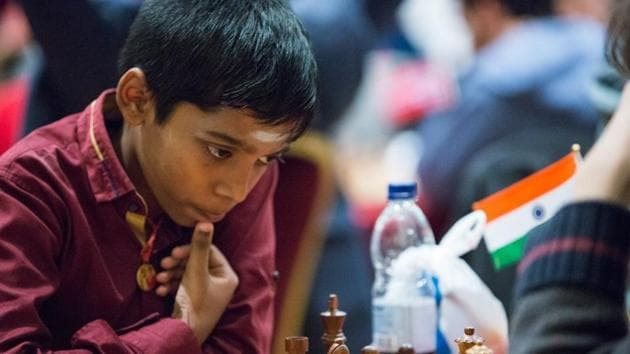 In the recently concluded World Junior U-20 Chess Championship in Tarvisio, Italy, Chennai's Rameshbabu Praggnanandhaa was on the cusp of history. The 12-year-old needed to win his last game against Germany's Rasmus Svane to not only clinch the title but become the youngest Grandmaster in history.
However, Praggnanandhaa drew and finished in fourth position. One would have expected bitter disappointment but the youngster displayed the maturity of an adult.
Speaking exclusively to Hindustan Times, Praggnanandhaa, was cool. "When the tournament ended, I felt normal. I forgot about the result immediately. There is always next time," Praggnanandhaa said.
Youth power on the rise
Praggnanandhaa's performances continued India's upward rise. Three Indian players finished in the top 10 in the tournament. Aravindh Chithambaram was third while Karthikeyan Murali ended seventh.
Praggnanandhaa went through the tournament unbeaten, with his draw against eventual champion Aryan Tari of Norway the high point. When asked about his preparation, Praggnanandhaa said, "I had prepared in a normal way. Ramesh sir (coach) gave me confidence."
However, it is the way how he unwinds in his free time which is interesting. "I love to watch Tamil comedy films and cartoons on Pogo," Praggnandhaa adds in a sheepish but in a gleeful way.
Contribution of RB Ramesh
The common link to Praggnanandhaa, Chithambaram and Karthikeyan's success is GM RB Ramesh. Ramesh, a former chess player coaches youngsters in his academy Chess Gurukul. On his Twitter page (@Rameshchess), he states, Students = 28 medals in world youth, 39 in Asian youth and 31 national titles.
Ramesh believes hard work is necessary for good results. "Youngsters currently are ambitious. They have immense self belief. We must ensure that players do not play for themselves as it puts too much pressure on them."
Getting off TV
Praggnanandhaa's chess introduction was hilarious. He was glued to cartoons throughout the day and in order to get off the Idiot Box, Praggnanandhaa's father Rameshbabu decided to put him in an academy.
"Throughout his spare time, he just watches Pogo. Although he does practice his chess, getting him off TV is a difficult task," Rameshbabu says.
Success in chess is common to the family. Praggnanandhaa's older sister Vaishali is a Girls' World Youth Chess Champion. Like Praggnanandhaa, Vaishali was also a TV addict but chess came naturally to both. "Vaishali grasped the aspects of the game well. Similarly, Praggnanandhaa does not worry about the result. He is absolutely unfettered," Rameshbabu said.
However, Praggnanandhaa almost did not play the game. Rameshbabu revealed, "I was against Praggnanandhaa playing. My financial position was not all that great. My physical condition (due to polio) is an impediment. However, Ramco Cements have been sponsoring my child for the last year."
Challenges remain
The recent success of the youth is due to the base laid by Viswanathan Anand's success since 1988. However, challenges remain. Ramesh, Praggnanandhaa's coach is clear.
"One cannot focus on the short-term. Extreme hard work is needed. Training is expensive and very few can afford. Even today, chess is not that popular," Ramesh said.
One hopes that the success of Pragnanandhaa can keep the flame of Indian chess burning bright.