R Praggnanandhaa, 12-year-old chess player, misses out on historic GM title
Updated on Nov 26, 2017 09:36 AM IST
Rameshbabu Praggnanandhaa, a 12-year-old chess player from Tamil Nadu, missed out on a chance to become the youngest Grandmaster in Chess history as he drew with German Grandmaster Rasmus Sven in the final round of the World Junior U-20 chess championship in Italy.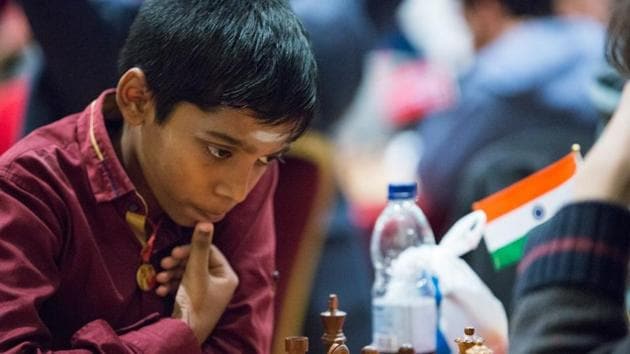 Hindustan Times, New Delhi |
HT Correspondent
Rameshbabu Praggnanandhaa, a 12-year-old chess player from Chennai, was on the cusp of history. Having secured his first Grandmaster norm when he defeated USA's Awonder Liang in the eighth round, he needed a win in the last round of the World Junior U-20 Chess Championship in Italy to win the title become the youngest chess Grandmaster in the world. However, he drew his final game against German Grandmaster Rasmus Sven on Saturday to finish fourth.
Praggnanadhaa's performance summed up his magnificent, unbeaten journey as he finished fourth among 148 players in the tournament. The 12-year-old's performance was the talking point in a tournament where the Indian players shone. Three Indian chess players finished in the top 10.
Aravindh Chithambaram, an 18-year-old chess player from Madurai, beat China's Xu Xiangyu to finish third and secure the bronze medal. He was tied for the top spot with 8.5 points with Manuel Petrosyan and title-winner Aryan Tari of Norway. Chithambaram secured the International Masters title. Karthikeyan Murali also put in a great performance by finishing seventh.
Among the girls, Harsha Bharathakoti put in a strong show to finish in 31st spot. Zhansaya Abdumalik from Kazakhstan was crowned as the FIDE World Junior Chess Champion in the girls section. The performance of the Indian contingent in 2017 at the World Junior U-20 Chess Championship sums up their continued rise in the chess world.
Praggnanandhaa's journey in the tournament was spectacular. His high point was when he drew eventual champion Tari with black pieces. Chithambaram, after losing his opening game to Serbian FIDE Master Pavle Dimic, strung four consecutive wins to stay in contention for the title.
The performance of Praggnanandhaa is only a continuation of his great run since 2013, when he won the U-8 World Youth Championship. In 2015, he became the U-10 World Youth Championship. Success runs even in the family, with Praggnanandhaa's elder sister R Vaishali a International Master who is the World U-12 and U-14 World Youth Champion.