Sebastian Vettel defends Ferrari's two pitstop strategy in Spanish Grand Prix
Sebastian Vettel has said Ferrari could not make the tyres last and this was the main reason why team pitted him twice in the Spanish Grand Prix.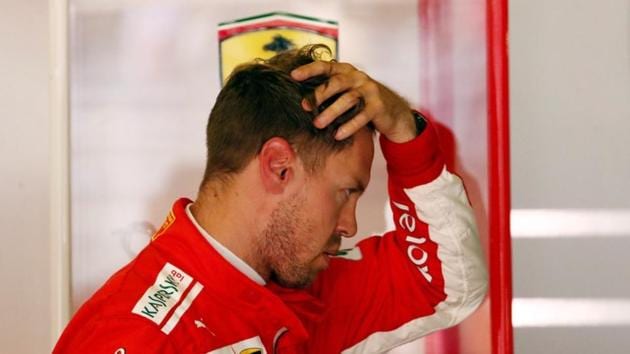 Updated on May 14, 2018 12:05 PM IST
Reuters, Barcelona |
Reuters
Sebastian Vettel defended Ferrari's Spanish Grand Prix strategy on Sunday after a second pitstop dropped the Formula One title challenger to fourth place and 17 points adrift of Mercedes rival Lewis Hamilton.
The German, winner of the season's first two races, had been second before coming in for a fresh set of tyres while Hamilton won with one stop from pole position.
"We couldn't make the tyres last, so for us it was clear we come in again. I think it was the right thing to do," said Vettel. "We were going through the tyres too quick and therefore we were not able to stay out for another 23 laps. Even in the end , with the fresher set I wasn't able to attack until the end," he added.
Vettel had pitted when the virtual safety car was deployed to slow the field, something that had played in his favour at previous races.
Instead, both Mercedes' Valtteri Bottas and Red Bull's Max Verstappen were able to get ahead, with Vettel also losing time with an error.
"Obviously, you have to slow down, the tyres are getting cold and it's my mistake. I came into the box maybe a bit hot -- well, cold with the tyres -- and overshot the position," he explained.
"And then the guys (mechanics) have to reshuffle and I think that cost us a bit of time. We had some traffic in the pitlane as well."
The race was the third in a row that Vettel, stuck on 49 career wins, had finished off the podium. Two weekends ago in Azerbaijan, the four-time champion was also fourth and in China before that eighth.
Pirelli had reduced the tread depths of the tyres used at the smoother but grippier Circuit de Catalunya to reduce the risk of overheating but had said the change would not be noticeable in performance terms or stint length.
Ferrari clearly had more problems than Mercedes making them last, however, but Vettel was not making excuses.
"One, we were not quick enough. If we are not able to see that then we are more than blind," said the German. "Second, I think we struggled a little bit over the course of the weekend with the tyres. They changed, but they changed for everyone. Third, I think it was a poor weekend in terms of reliability. Kimi (Raikkonen) had an issue with the engine yesterday, had to change the engine today and obviously retired in the race."
Close Story