Shubhankar Sharma stays grounded in pursuit of Masters dream
Shubhankar Sharma overcame a four-stroke deficit to claim a two-shot win at the Maybank Championship in Malaysia this month for his second European Tour title.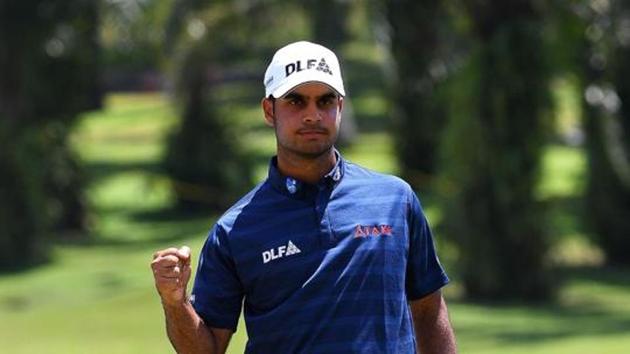 Published on Feb 14, 2018 02:37 PM IST
Reuters, Mumbai |
Reuters
Two European Tour titles in two months is a dream-come-true for Shubhankar Sharma but the Indian youngster is trying to stay grounded as he chases a spot at this year's U.S. Masters.
The 21-year-old overcame a four-stroke deficit to claim a two-shot win at the Maybank Championship in Malaysia this month for his second European Tour title.
READ | Shubhankar Sharma to lead strong field in Indian Open Golf tournament
He sunk 10 birdies in a remarkable closing round in his triumph at the Saujana Golf and Country Club, a little over a month after his maiden three-shot victory in the Joburg Open.
Sharma is now the highest-ranked Indian in the world at 71st and if he can get into the top 50 it will bring him an invitation to the Masters in April and The Players Championship.
To do that he needs to perform well in the Oman Open and the Qatar Masters before the WGC-Mexico Championship in Mexico City next month.
"My immediate goal is to just play well in the next two events," Sharma told Reuters in an interview from his home in Chandigarh, where he was fine-tuning his game with long-time swing coach Jesse Grewal.
READ | Shubhankar Sharma claims Maybank Championship title in thriller
"Because if I do well enough at the next two, I might have an outside chance of qualifying for the Masters. I just want to keep my feet grounded and my eyes on the ball."
The Joburg win earned Sharma a ticket to this year's British Open at Carnoustie and the opportunity to rub shoulders with the top players.
"I played with reigning British Open champion Henrik Stenson in Malaysia, I was very, very happy playing with him on the third day," said Sharma who turned professional at the age of 16.
READ | Shubhankar Sharma all set for maiden World Golf Championships in Mexico
"I can't really pick one player but I am very excited that I will be playing the British Open and Tiger (Woods) most probably will be playing, so to be in the same field with him will be fantastic."
His father quit the Indian army to help his son chase his aspirations and Sharma was six when he went to a golf course for the first time and got hooked on the sport.
"Dad got a set for himself and cut down two irons that I used to play with," he said. "I used to sometimes caddy for him and just have fun at the golf course. Those are my earliest memories.
"I just liked going to the course. I used to just try to get the ball in the air because the first few years I couldn't get the ball in the air. Just the joy of seeing the ball fly in the air probably got me addicted."
Becoming the first Indian golfer to win a major remains the ultimate goal for Sharma.
"At the end of the day it's just another tournament, just that the conditions are tougher and it's a world-class field," he said.
"You have to just play good golf for four days and I don't see any reason why I can't do it."
Close Story