Truly amazing! This 5-year-old girl creates two records in Archery
Cherukuri Dolly Shivani created the first record by shooting 103 arrows from a distance of 10 metres in just 11 minutes and 19 seconds.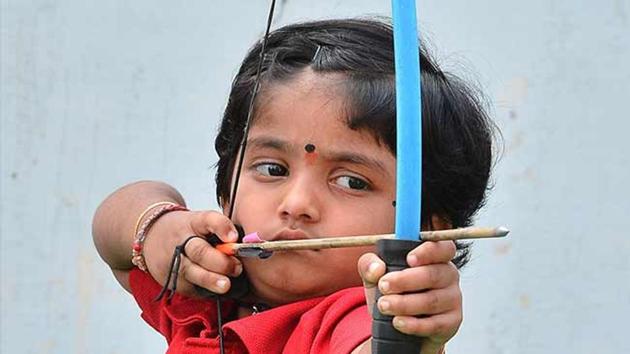 Updated on Sep 12, 2017 05:29 PM IST
Five-year-old archer Cherukuri Dolly Shivani entered the India Book of Records and the Asia Book of Records on Sunday. Her feat even caught the attention of Vice-President Venkaiah Naidu, who lauded her efforts.
(Read | Thomas Bach defends International Olympic Committee's handling of corruption)
Standing at a distance of 10 metres, Shivani shot as many as 103 arrows in 11 minutes and 19 seconds. After a break of 30 minutes, she drew 36 arrows from 20 metres, taking five minutes and eight seconds to do so. Out of a possible 360 points, Shivani managed an impressive 290.
"It is a big challenge to her considering her tiny hands and supple shoulders. She hit 15 shots at 9 and twice she hit 10 points. This signifies the concentration level of the young kid," Sharan Kumar, an official from the Archery Association of India was quoted as saying by The Hindu.
This is not the first time Shivani has made the news with her efforts. Close to her third birthday, she had become the youngest Indian ever to have scored more than 200 points at a trial event, according to The Telegraph.
(Read | International Olympic Committee to officially crown Paris, Los Angeles as hosts)
The young archer trains at The Volga Archery Academy in Vijayawada, about 250 kilometres from Hyderabad is reportedly preparing to take part in the 2024 Olympics.
Shivani's father, Cherukuri Satyanarayana was quoted as saying by The Hindu, "Shivani will be 13 when the 2024 Olympics will be held. Our target is to prepare her for the Olympics and we need a top class coach to teach her the advanced techniques. I want Chief Minister Chandrababu Naidu to take note of the request and do the needful."
(Read | Priyanka Panwar, Asian Games gold-winning athlete, faces 8-year ban for doping)
Satyanarayana runs the Volga Academy in the name of her daughter who had died in an accident in 2004. Satyanarayana's son Ch Lenin was an international archer and also became coach of the India compound team which won team silver at the 2010 Commonwealth Games in New Delhi. Lenin too died in a road accident in Vijayawada while returning from a felicitation ceremony following the medal-winning feat of his team.
Close Story