Thomas Bach defends International Olympic Committee's handling of corruption
Thomas Bach, the president of the International Olympic Committee, has defended the organisation's handling of corruption charges after it was accused of graft in the race for the 2016 Olympics which were held in Rio de Janeiro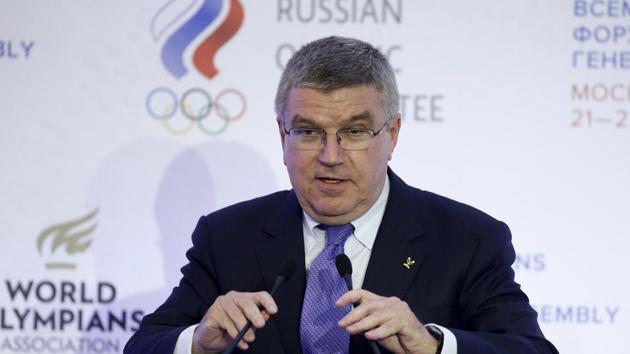 Updated on Sep 12, 2017 11:05 AM IST
AFP, Lima |
Agence France Presse
International Olympic Committee President Thomas Bach defended his organisation's handling of corruption allegations on Monday, insisting the movement could never make itself immune from scandal.
The IOC, which is gathering in Lima to award the 2024 and 2028 Olympics to Paris and Los Angeles on Wednesday, has been rocked by allegations of graft in the race for the 2016 Olympics.
Top Brazilian official Carlos Nuzman was arrested by police last week, accused of involvement in a scam to funnel cash to IOC members taking part in a 2009 vote in Copenhagen to decide the 2016 Games, eventually won by Rio.
It followed earlier revelations in France about a similar plot involving the 2013 vote in Buenos Aires which awarded the 2020 games to Tokyo.
In the Brazilian case, a whistleblower told the New York Times he had warned the IOC about Nuzman's activities repeatedly in the years leading to his arrest.
However Bach stressed on Monday that the IOC had acted promptly to deal with allegations as they emerged.
"Credibility for us is extremely important," Bach said. "We have taken a series of measures with regard to good governance. We have changed the candidature procedure. This does not make us immune. No organisation in the world is immune. No law is so perfect that it cannot be broken. There are laws against fraud and theft for centuries and they are still being broken. It does not make us immune. But we feel have done what we can do."
'We will act'
Bach said lawyers for the IOC's Ethics Commission had contacted Brazilian authorities hoping to obtain further details about the Nuzman case.
"We are following up on everything that has been provided or will be provided by the judicial authorities," he said.
"Once evidence is there we will act and we will be in a position to make recommendations in this respect."
In response to letters sent to the IOC regarding Nuzman by former Brazilian sports official Eric Maleson, Bach insisted they had been dealt with properly.
"If there had been any evidence they would have followed it up," Bach said. "There are allegations concerning Mr Nuzman, as far as we know he is not even charged yet."
Bach meanwhile was elusive when he was asked to give his assessment of how the IOC's image had been tarnished by the various corruption allegations.
"Everybody has his own judgement of the image of somebody," he said. "You may like somebody your friend does not like, and you may have an image of somebody that your friend does not like. What are you asking me? My personal judgement? My response would be this is not my call to speak about the IOC's image because it's in the eyes of everybody.
"No one wants to have credibility issues in his or her organisation. But we have to be realistic -- no organisation in the world is immune to credibility issues."
Bach meanwhile said the IOC had agreed to set up a USD 1 million fund to provide relief to member nations, mostly in the Caribbean, hit by Hurricane Irma.
"We will assess the damages with regard to sports and sports infrastructure and if this leads to more we will reassess this amount of USD 1 million," he told reporters.
Close Story