Why Milkha Singh is 'scared' to face this Flying Sikh
Updated on Oct 04, 2018 10:04 AM IST
At 86, Hardev Singh Flora is winning gold medals at the World Masters Games and his hunger is growing.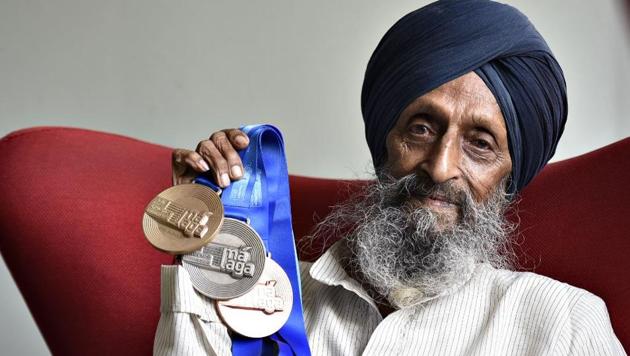 'Run every day to keep the doctor away': this modification of the often-used adage sits perfectly on 86-year-old Hardev Singh Flora, India's veteran version of 'Flying Sikh' Milkha Singh. At an age when most octogenarians are making regular rounds of medical clinics, Flora takes laps on the National Stadium tracks, every morning, without fail.
"Even on days you cannot fold your knee because of an injury, you walk. The morning practice session is a way of life now," Flora, who is back from the World Masters Athletics in Malaga, Spain, says. A gold in 80m hurdles, silver in 200m hurdles and bronze in triple jump in the 85 to 89-year category is par for the course for this wiry Sikh, who was born in Kolkata and now lives a retired life in Delhi.
"Milkha (Singh) does not participate in the Masters because of me," he boasts quietly, breaking into a blink-and-you-miss smile through his salt and pepper beard and quickly starts talking about his plans to participate in Poland at the World Masters Athletics Indoors in March 2019. Milkha, now 88, would have been in the same Masters age classification as Flora's.
There are talks going on with the Delhi government for some financial help but even if it does not work out eventually, he is fine.
READ: Indian hockey legend Balbir Singh Sr critical, admitted to ICU
"I don't run for money. I run because it makes me happy. I run because it keeps me fit. I have not gone to a doctor since 1956. My daughter is a doctor, but I don't consult her. My idea of life is simplicity in everything and once you practice that, you are happy."
"Running to me is about devotion. If you are forced to do something, you will look for excuses not to do it. But running for me is like going to a temple everyday. It keeps me close to God. That is my motivation to wake up every morning at 4.30 and hit the track at 5.30."
Malaga was Flora's fourth World Masters and his gold count stands at four. He has five gold medals in the Asian Championships to go with it.
"I started running as a veteran in 1998 after I shifted base from Rourkela (Odisha) to Delhi and 2007 was my first World meet. I was 75 then. I used to work as a contractor at the Rourkela steel plant and raising my two daughters was my priority.
"Thankfully both my daughters are well placed in life and money wasn't an issue after I stopped working. So I can now pursue my dreams. I want to set an example to the new generation. First, running or sport for that matter, helps you look at life in a better way and second, there is no age to start dreaming," Flora says.
Personalise your news feed. Follow trending topics