Young athletes dope in smaller competitions and trials to get jobs, says throwing coach Rustam Khan
With no system in place to check and curb doping at the grassroots in India, and a lack of awareness among athletes, many youngsters use performance enhancing drugs for immediate results and prematurely end their careers.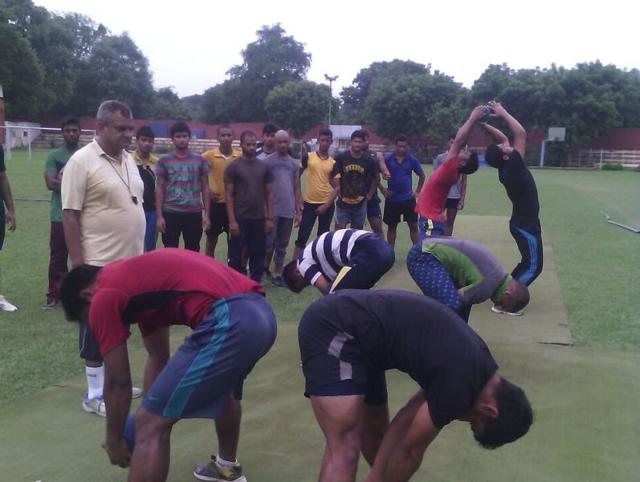 Published on Jul 30, 2016 11:21 AM IST
In light of the recent doping scandal, Rustam Khan, one of India's top throwing coaches, warned athletes to be careful of what they eat or drink while attending camps, especially before a big event.
"One should not rely on anyone, including friends. This is the age of cut-throat competition. Anything can happen to an athlete," Rustam told HT in an exclusive chat. He added that athletes should not rely on anyone, even for a glass of water.
Rustam trains around 250 athletes, mainly from Haryana, Uttar Pradesh, Rajasthan, Maharashtra, Punjab and Kerala, including 30 youngsters from the UP government-run athletics hostel in Allahabad. Athletes Gaurav Yadav from Pratapgarh and Kushal Singh from Lucknow— the latest to be caught in the dope net—were trained by him in the past at the Allahabad hostel.
"Most of the athletes in India come from rural background and do not know much about doping or performance enhancing drugs. They start consuming multi-vitamins on the recommendations of their seniors and also pay a lot of money to procure them," explained Rustam, a sports officer with the state government.
As tests are not stringent at the grassroots, some athletes get into a habit of using performance enhancing drugs. "Early habits of doping in the district, regional and state championships do help an athlete bag honours but it taints their reputation," he added. "I have seen the career of many athletes come to a premature end, especially after they secure government jobs. They know they will be caught if they compete in international events."
Rustam pointed out that such athletes get away with doping as there is no system in place to test for performance enhancing drugs during trials for jobs.
"I know a number of athletes who use dope to get jobs in the police and the army. A system has to be in place to curb the menace. Many young athletes are more eager to get jobs through sports quota instead of winning medals for their state or the country," he added.
Rustam, however, insisted that athletes at the top level, especially those competing in the international arena, are not likely to use performance enhancing drugs. "They all know how doping can end their career. If somebody is caught at this stage there is definitely a conspiracy behind it," the coach said.
UP Athletics Association (UPAA) secretary, PK Srivastava, termed the rising trend of drug use in sports alarming. He said that UPAA has been issuing warning and educating the athletes against the use of performance enhancing drugs. "It is mandatory for every state body to let the National Anti Doping Agency (NADA) know what is happening in the state championships. They collect samples properly but, sadly, the test results come in very late," Srivastava added.
He also pointed out that athletes from north India fall victim easily as they are not aware or alert about it. "You will find that a lot of sportspersons from north India are accused of doping. But this doesn't happen to athletes from other parts of the country. They are quite alert and don't mingle with everyone," he pointed out.
Sports medicine expert Dr. Saranjeet Singh said that sportspersons should also be careful while taking cold remedies, pain relievers, hay fever remedies, and diet pills. "Poppy seeds, usually found in bread, contain traces of morphine," he cautioned. "A simple thing as eating a pastry filled with poppy seeds could produce increased opiate levels in the system during a test."
Close Story