World Chess Championship: Carlsen retains title, Anand vows return
Updated on Nov 24, 2014 01:57 PM IST
In the eleventh game of the World Chess Championship, Viswanathan Anand playing with black pieces lost to Magnus Carlsen. With this win Carlsen successfully defended his World Champion title.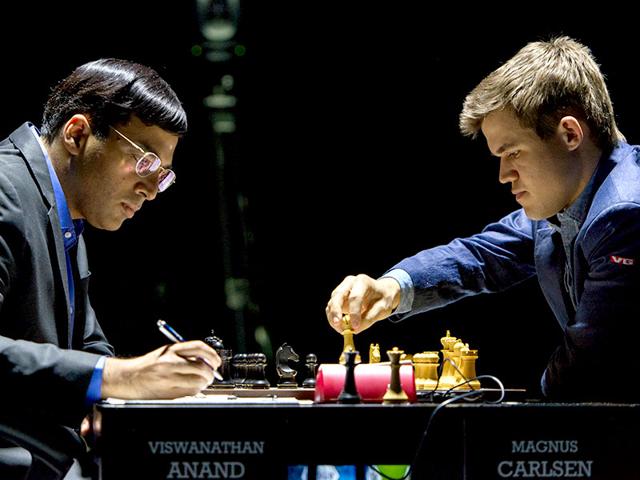 In the eleventh game of the World Chess Championship, Viswanathan Anand playing with black pieces lost to Magnus Carlsen. With this win Carlsen successfully defended his World Champion title.

Game board
Analysis
Both the players were under tremendous pressure coming into this game. The championship was precariously balanced with only a point's difference between Anand and Carlsen. A small error on the part of either of them had the power to change the course of the championship dramatically.
Before the match, chess Grandmaster and commentator Susan Polgar tweeted "99.99% of the fans at home can't understand the amount of pressure Carlsen and Anand are going through right now. Very intense! I can tell you from experience playing in WC match. So much pressure at this stage, no matter if you're leading/trailing by 1."
Berlin defence was played in game 11. Learn about Ruy Lopez-Berlin defence here.
Berlin defence
As usual Carlsen forced a queen trade-off as early as move 8 in the game. This is the sixth time in this championship that Carlsen has pulled off this manouvre, and he did it in style. As he only needed a draw he was intent on taking the queen off the board to minimise danger.
Queens off board
In move 15, Carlsen placed his Knight in 'D5' which was a powerful move as he gained control at the center. But even uptil this point, the game was open.
From move 18 to 23, Anand managed to place his bishops in better squares and for some time the chess engines showed a slight advantage for Anand. It looked like he had created a comfortable position for black and was all set for a long fight.
Carlsen recounted this in the post-match press conference, "Perhaps I didn't move accurately from 18 to 23 moves. It was tight."
When the game was in move 26....
.... all the chess experts gave Anand a clear advantage. Many chess observers felt that if Anand moves 'Be7' then it would be very difficult for Carlsen to take advantage.
At this point, Indian Chess Grand Master Ramesh tweeted, "Anand in driver seat!"
Polgar tweeted, "3 reasonable choices: Be7, Bg7 or Rab8. Strongest is Be7."
Anand went with 'Rab8'. What came next surprised everyone.
Move 27 - The bad gamble

When the whole world was expecting Anand to put his bishop to good use (Be7) and push Carlsen to his limits, he sacrificed his Rook!
Sacrifice
This turned the match upside down. Carlsen saw a chance to end this championship in game 11 and went for the kill.
In his live commentary, Anand's former trainer GM Praveen Thipsay wrote, "Vishy has lost the initiative exchanging that powerful rook, being Rb3 very obvious, but anything was determined. It was a great sacrifice anyways."
Polgar sent in a series of tweets after this move, "Anand went crazy! Bad choice by Anand. Now he is in trouble. 3 straight inaccuracies by Anand. First by moving Rdb8, then Rb4, and cxb4.The match may be over today. For whatever reason, Anand lost patience and self destructed. He completely misevaluated the position. I am still stunned of Anand's series of decision to play Rdb8, Rb4 then cxb4 instead of the Be7 idea.
Later, Anand recounted move 27 as a 'bad gamble' in the press conference, "It was a bad gamble. Move 27 was probably a nervous decision. I wasn't thinking very clearly at this point."
Carlsen was also of the opinion that this move was a blunder, he said, "I dont think the sacrifice was justified."
The plan behind the rook sacrifice was to start pushing his pawns down the flank and convert them. But it gloriously failed once Carlsen started checking Anand's king. There were too many pieces left in the game to try the sacrifice tactic. It backfired.
GM Thipsay commented, "Anand has fallen to the powerful calculation of Magnus Carlsen before. Anand's age has been a decisive factor along the tournament; we have watched games in which Anand has fallen several times in tactical fallacies."
Aftermath
After move 27 there was nothing much left to play. Magnus started exchaging pieces and at the same time walked his pawns down to the last file. Thus leaving no time for Anand to convert his pawn.
Carlsen became the World Champion once again beating Viswanathan Anand.
Move 26 in game six and move 27 in game eleven are the two blunders that stopped Vishy in his pursuit for the World Championship.
Presser
A not-so-sad Anand said in the press conference, "His nerves held up better, he was at the end superior."
A reporter asked the all important question which many Indians were eagerly waiting for to be answered.
Reporter : Are you considering leaving chess?
Anand: NO!
This was followed by a huge round of applause from the crowd which had gathered for the press conference.
Whether he will play again in the candidates tournament to come back as a challenger next year, only time will tell.
But he is not finished yet! Vishy vows a return.


Previous games
|
|
|
|
|
|
|
|
|
Add this to your flipboard
Dont's miss any stories, follow our World Chess Championship magazine