Patna University students' union election likely in December
Updated on Oct 26, 2018 04:48 PM IST
The last PUSU election was held on February 17, 2017. While the number of voters in last election was 19, 872. It may increase by around 40% this year due to larger number of enrolments in different courses this year, the DSW said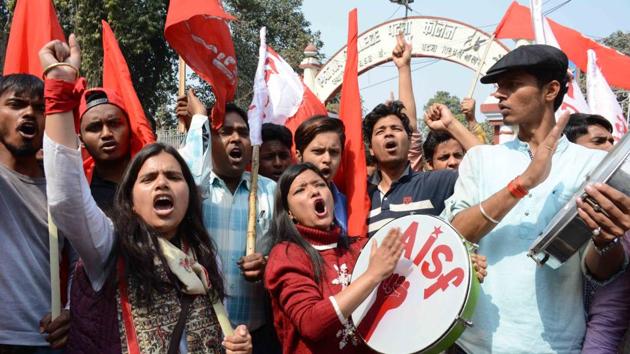 Hindustan Times, Patna |
, Patna
VK Tripathi
Patna University has started the procedures to conduct the students' union poll 2018-19. According to the PU officials, the election is likely to be held in the first week of December. However, the official date of poll has not been declared.
'There are 90% chances of the election to be held in the first week of December but the official election schedule will be announced soon, said Rash Bihari Prasad Singh, PU vice-chancellor on Friday.
"The university has already begun preparations of the electoral roll and sent letters to colleges and post graduate departments in this regard", he said.
The dean of students welfare (DSW) NK Jha said that students from 10 colleges and 45 post graduate departments of various institutions of PU, will participate in the poll.
Some of the colleges have already sent their draft electoral roll to the university. After receiving the rolls from all institutions, the university would notify them and invite corrections before final publication of electoral roll, he added.
The last PUSU election was held on February 17, 2017. While the number of voters in last election was 19, 872 It may increase by around 40% this year due to larger number of enrolments in different courses this year, the DSW said.
Since the administrative support and deputation of police personnel is necessary for this democratic exercise, the university has sent letter to the district administration and sought convenient time for the poll.
The PUSU in its long history has produced many political leaders who first became student leaders but eventually rose to make a mark in state and national politics.
Who can vote
"Students admitted only in regular course including one year post graduate diploma courses will be eligible to participate while those of distance mode of education and certificates courses would be excluded from this exercise", the dean said.
Personalise your news feed. Follow trending topics