Pro Kabaddi League 2018: Bengal Warriors ease past Jaipur Pink Panthers
Updated on Oct 27, 2018 11:43 PM IST
The win was the third in a row for the Bengal Warriors who were too good for the Jaipur Pink Panthers who have now lost three in a row.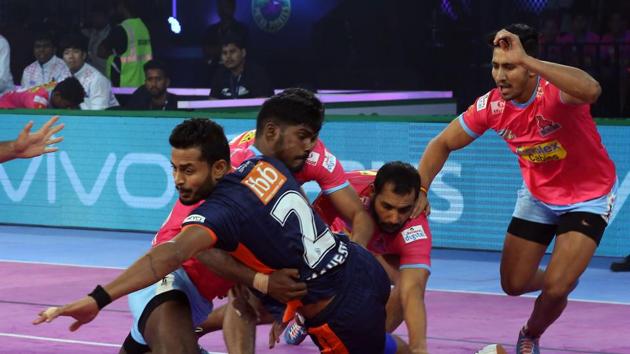 Bengal Warriors went on top of Zone B table after a rather comfortable 39-28 win over Jaipur Pink Panthers on Saturday. The win was the third in a row for the warriors who were too good for the Panthers who have now lost three in a row. Mahesh Goud and Maninder Singh ran sack points on Jaipur's defence while Ran Singh and the captain Surjeet Singh had a great match. Deepak Hooda tried his best to save the game for Jaipur but in vain as others failed to perform.
Bengal Warriors moved to the topped spot in Zone B with this win over Jaipur while they continued to stay in the bottom of Zone B
Deepak Niwas Hooda got a running hand touch on Mahesh Goud in the 2nd minute to initiate the points for the match as both teams started with empty raids. Mahesh Goud made a great comeback to this with a Super Raid in the 7th minute. He made a great review as he was initially given Out by the referees only to be overturned into 3 touch points and a bonus point which led to the score reading 7-3.
A strong dash on Anup Kumar by Surjeet SIngh made the Jaipur fans nervous as he looked like having an issue with his shoulder in the 9th minute as they were trailing 9-3 to Bengal Warriors. This led to the first collapse of the day for Jaipur as they were all out by Maninder Singh by the 11th minute. Jaipur tried to make a comeback from this with some great raids like the one by Ajinkya Pawar with a great Running Hand Touch on the captain Surjeet Singh which led to Bengal being reduced to 3 men on the court by half time as the score read 18-13 in favour of Bengal Warriors.
The second half started with many empty raids as Anup Kumar tried to force Bengal Warriors into raiding in Do-or-Die raids and were succesful in it as they got Jang Kun Lee in the 23rd minute to reduce the gap to 18-14. But the next raid saw Vijin and Adarsh make a great Super Tackle on Deepak Niwas Hooda. Surjeet Singh made a great super tackle on Ajinkya Pawar's Do-or-Die raid in the 24th minute to increase the gap back to 22-14.
The game went completely out of Jaipur's hands with Maninder Singh making a super raid taking Anup Kumar, Sunil and Sandeep Dhull out of the court with a bonus as the cherry on top in the 25th minute to make it a 11 point lead of 25-14. Mohit Chhillar tried to make something out of nothing with his Super Tackle on Maninder Singh with his double ankle hold. This didn't help them much as they conceded another All Out in the 32nd minute with Ran Singh making a great block on Ajit Singh.
The game continued to sway towards Bengal Warriors as Ran Singh and Surjeet SIngh continued to rack up tackle points on Jaipur's raiders and Jang Kun Lee continued to get crucial points and slowing the game simultaneously. The game ended with Bengal Warriors defeating Jaipur Pink Panthers by 36-25.
In tomorrow's matches, Delhi Dabang K.C. will face UP Yoddha while the host Patna Pirates will face Haryana Steelers.
Personalise your news feed. Follow trending topics