A silent revolution of reviving the natural springs and protecting them in Pune's Bavdhan
Hindustan Times, Pune |
Prachi Bari
Apr 23, 2018 05:09 PM IST
Shailendra Patel, known as 'kaka' to the local Bavdhan residents, is working on saving the natural springs in the city
It is important that we save the natural springs in our city," is how Shailendra Patel, known as 'kaka' to the local Bavdhan residents, puts it.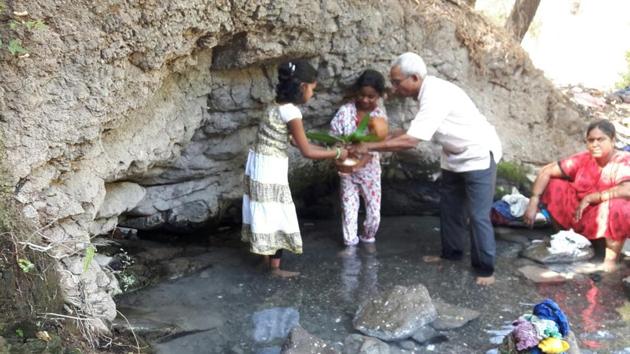 The spring at Bavdhan, a natural one , was at the centre of a puja being performed on Sunday by residents seeking blessings for their efforts to clean the water fount and to persuade the municipal officials to preserve this "heritage site" from the ongoing march of urbanisation.
"This natural spring of water discharges two lakh litres per day and we want to preserve it from being disrupted due to infrastructural development and construction. My plea to all residents is to come together to clean this place," pleads Shailendra Patel.
He has been instrumental in finding many natural springs down the route of the river Ramnadi. He claims, from its origin in Bhukum till Someshwarwadi, there are 147 'live' streams feeding water to the Ramnadi throughout the year.
It was during this search for springs that Patel found the following springs 'live' in the Pune region - three in the Bhukum area, one in Khatewadi, two springs in Bhugaon and one in Bavdhan gaothan.
The Bavdhan gaothan spring has two streams feeding the Ramnadi river.
"Bavdhan means a village with many wells. In the early days there were many wells, but now the same natural springs are being used by villagers to wash clothes and drink water. The sad part is that with new development in the area, sewage water is also being let into the stream," claims Patel.
According to Kalyani Kalawant, resident of Bavdhan, "This natural spring is in danger of closing if construction happens in this area. This area had been cleared of garbage, but people still dump waste near this spring."
Corporator Alpana Varpe said, "We will be putting up a proposal for the cleaning and beautification of this place, to preserve this natural heritage. We will not allow any commercial construction here."
How to save the Bavdhan natural spring?
A study by Upendra Dhonde, hydrogeologist, Central Ground Water Board, Pune, on the Bavdhan site of the natural spring recommends:
1. Reduce soil erosion, increase vegetation cover and soil organic matter in catchment area.
2. Increase natural infiltration of water into the soil and recharge the aquifer.
3. Protect the area to allow ecological restoration and prevent pollution of the groundwater and surface run-off by maintaining cleanliness in the catchment area.
4. Augment natural infiltration and recharge through best practices of rainwater harvesting.
5. Construct a small artificial lake or large well to collect spring water.
6. Develop a spring-front, i.e. beautification by making structures like park, jogging area and open gymnasium.
7. Make community members groundwater-literate and share knowledge with other local institutions who can take-up the monitoring and management of spring after significant training and engagement.
"Exciting news! Hindustan Times is now on WhatsApp Channels
Subscribe today by clicking the link and stay updated with the latest news!"
Click here!