A tradition of family bonding and Easter eggs
Puneites share their plans for Easter, celebrated after a 40-day period of fasting, prayer, and penance.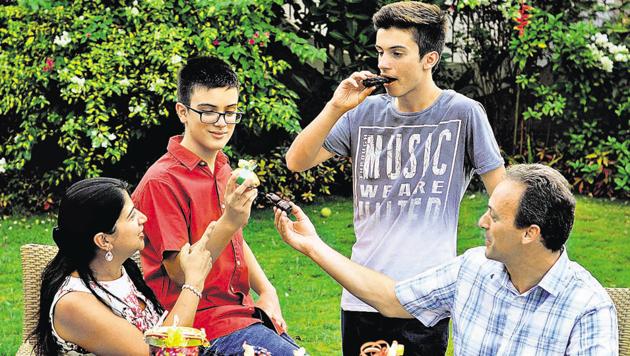 Updated on Mar 31, 2018 09:55 PM IST
Hindustan Times, Pune |
Anjali Shetty
Easter is considered one of the biggest festivals celebrated by Christians across the globe. The festival marks the resurrection of Jesus from the dead, as described in the New Testament. It is celebrated after a 40-day period of fasting, prayer, and penance. We speak to city families on the significance of the festival and their plans for the day.
Keeping up with tradition
Jason, Loveena, Avinash and Andrew Leonardo

The Leonardos look forward to the holidays as it means family time. For Easter especially, the family gets together and paints eggs the night before and awaits the arrival of the Easter bunny. Avinash shared, "We put out a newspaper in the kitchen and all of us paint eggs to be relished the next day. We then usually attend an event where a treasure hunt is organised and we get to keep the eggs that are found. It is primarily a day spent with family and we have dinner together. We attend mass too."
Jason pointed out that as a child, growing up in the US, Easter meant family meals and cooking. "My father would make an elaborate meal and we would sit waiting for him to serve us. The tables have turned now. I am in the kitchen while Avinash and Andrew await my specialities. I like to cook my grandmother's recipe of Ham with Portuguese-styled stuffing."
To this Avinash added, "We really look forward to this dish as it is one of our favourites. It is special as it is a family recipe and we love the way dad makes it."
The tradition involves carrot cake, awaiting gifts from the Easter bunny and attending Easter mass. Andrew said, "Easter bunny pays a visit in the night and leaves us chocolates and candies. He is pretty mischievous and every year rearranges the chairs in different shapes. We leave out the eggs and carrots for the bunny."
Jason added, "Now that the kids have grown up, we also explain the significance of the festival. We tell them that it is more than just eggs and about the sacrifices that Jesus has made for us."
Memories galore
Cinzania and Denaka Rodrigues

For sisters Cinzania and Denaka, Easter brings back memories of childhood spent with family and relatives. Cinzania said, "Easter is the biggest festival celebrated by the Catholic Church. Christ sacrificed his life for us so that our sins would be forgiven. As a child, during the season of Lent which started on Ash Wednesday, we went to church and had our foreheads marked with ash to remind us that we are just dust and that one day we would return to dust. The following weeks we were taught to make sacrifices and abstain from things we indulged in and loved... for example refrain from meats, television, music, and so on. Every Friday, my mum would take us for a special childrens' 'Stations of the Cross' which she conducted herself to ensure that we understood what we were doing as children and why."
Cinzania added that Maundy Thursday, before Easter, was a reminder of the Last Supper Jesus had with his disciples before he was betrayed by one of them (Judas) and then led to be persecuted, scourged and then hung on a cross.
She added, "Good Friday is a reminder of the suffering he bore to redeem us. Easter was usually the vigil held on Saturday night which involves the blessing of water, fire and oil which is used the through the whole year. Sunday morning had coloured eggs for breakfast and a massive family lunch to celebrate the Risen Lord!"
Close Story