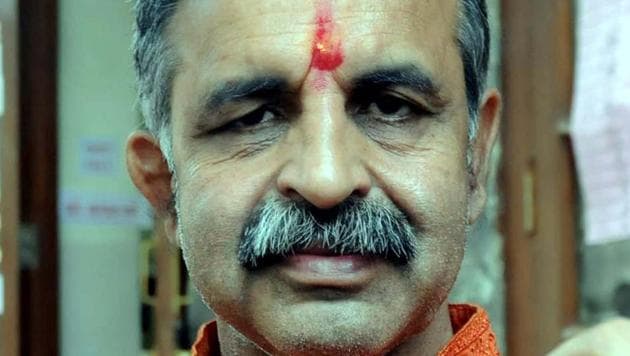 Bhima Koregaon riots: Prosecution opposes bail plea of Milind Ekbote
Defence lawyer S K Jain had argued that Ekbote's arrest on April 4 in the second case was merely aimed to frustrate the special court's bail order and that the conspiracy charge against Ekbote was far-fetched. The court has posted the matter for an order on April 19
Hindustan Times, Pune | By Nadeem Inamdar
UPDATED ON APR 18, 2018 04:21 PM IST
The defence and prosecution on Tuesday completed their arguments in connection with bail application of Hindutva ideologue Milind Ekbote's alleged role in Bhima Koregaon riots and the final hearing will take place in the court of additional session judge S M Menjoge on Thursday.
District government pleader Ujjwala Pawar submitted before additional sessions judge S M Menjoge that there was enough evidence against Ekbote and that he indulged in activities prejudicial to social peace and harmony against the government.
Pawar referred to the contents of the FIR registered by the Shikrapur police and also the alleged "divisive" pamphlets which Ekbote and his associates distributed a couple of days ahead of the riots to reiterate his argument opposing the bail plea.
Ekbote has already been granted bail by a special court in the first case registered by one of the riot victims for offences under Indian Penal Code and the SC/ST (Prevention of Atrocities) Act.
Defence lawyer S K Jain had argued that Ekbote's arrest on April 4 in the second case was merely aimed to frustrate the special court's bail order and that the conspiracy charge against Ekbote was far-fetched. The court has posted the matter for an order on April 19.After listening to all sides, Ekbote was given bail — but it is Savale's plaint that the case laws were not considered. So, a revision application was filed, but rejected by the court on Monday.
Two FIRs have been registered against Ekbote and Bhide by Dalit activists accusing them duo of orchestrating the violence at Bhima Koregaon on January 1, when lakhs of Dalits had come to Perne village to celebrate the 200th Battle of Bhima Koregaon anniversary. Both Bhide and Ekbote have been booked under sections 307, 143, 147, 148, 149, 295-A, 435 and 436 of the Indian Penal Code (IPC) and section 3(1) (10) of the Atrocities Act by Shikrapur police, pursuant to Savale's complaint.
The police in their submission stated that vehicles and public property worth Rs 5.94 crore was damaged during the riots.
The Sessions court has transferred the Bhima Koregaon riot case to judge S M Mejgoje and also rejected a review application in the case of Samasta Hindu Aghadi President and Hindutva ideologue Milind Ekbote on Monday.The application which stood rejected was filed by complainant Anita Savale who alleged that certain judgments she had filed at the time of opposing bail for Ekbote had not been considered by the sessions court. The court on April 4 had granted bail to Ekbote on various conditions.
Savale was represented by advocates Surendra Janrao and Umesh Gavli who opposed Ekbote's bail plea, while submitting multiple case laws to the court. Janrao in his submission before the court said that the matter ws "very serious", and cited that a probe was still ongoing. The other main accused in this case, Hindutva leader Sambhaji Bhide, is yet to be arrested, so Ekbote should not be released on bail, Savale's advocates stated before the court.
Close