Checkmate! Pune's Gaurav emerges as sole leader
With straight wins in all six matches, he bags top place with six points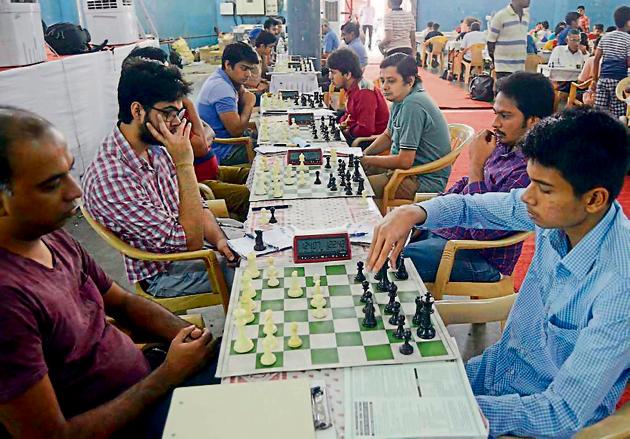 Updated on May 09, 2018 06:26 PM IST
Little fancied Gaurav Zagade from Pune, surprised everyone by jumping to the top spot in the Late Bharatbai Halkude Memorial 1st All India Open FIDE rating chess tournament, at Ganesh Kala Krida complex, Swargate, on Tuesday.
The tournament is organised by Jayant Gokhale Chess Institute and is sponsored by Aryan's Enterprises under the aegis of All Marathi Chess Association (AMCA) and All India Chess Federation.
With six straight wins in six matches, Gaurav has climbed to the top place with six points in his kitty. He is followed by IM VAV Rajesh, GM Saptarshi Roy Chouwdhury, FM Ankit Gajwa, Pratik Patil, Gaurav Das and Swaraj Palit with 5.5 points each.
The performance of Gaurav is astonishing as he has not only remained unbeaten but has also defeated stronger opponents. In the last three games, he had defeated three International Masters (IM).
In the fourth round, he defeated IM Anup Deshmukh and then went on to beat IM Shahikant Kutwal in the fifth round and today, he continued his fine run with a 60-move win over IM Vikramaditya Kulkarni.
The game started with Catlan opening. Gaurav playing with black pieces, manoeuvred his attack on the king side. Vikramaditya replied him with some strong moves and was in a stable position. However, in the middle game, he lost the control and Gaurav seized the opportunity. He relentlessly attacked on the king side and forced Vikramaditya to surrender in the 60th move.
"He is a promising player and has shown impressive performance in the tournament. His father Rajesh Zagade was also a good player and he is a coach too. Gaurav is yet to win any major tournament but if he keeps playing like this, he is likely to win his maiden title in Pune," said organiser Jayant Gokhale.
However, he said that luck also played a part in Gaurav's performance.
"His previous two wins against Anup and Shashikant were kind of surprising. Anup had a clear winning position against Gaurav but blundered under time pressure. Similarly, Shashikant also lost his game from a solid position. Of course, I don't want to take away the credit from Gaurav. His hard work and preparations have really paid off," Gokhale said.
With this performance, Gaurav has amassed 118 rating points so far, and is playing with a rating performance of 2595.
Meanwhile, it was yet another bad day for senior international masters Sharad Tilak and Anup Deshmukh as both went down to Konatham Snehil and Swaraj Palit respectively.
Results on top 15 boards of 6th round:
IM Vikramaditya Kulkarni (5) lost to Gaurav Zagade (6); FM Ankit Gajwa (5.5) drew with IM Rajesh VAV (5.5); Prakash Ram (5) lost to GM Saptarshi Roy Chowdhury (5.5); Pratik Patil (5.5) bt Satkar Chirag (4.5); Sankarsha Shelke (5) drew with FM Sohan Phadke (5); Siddhant Gaikwad (5) drew with IM Ramnathan Balasubramaniam (5); Saikat Nath (4.5) lost to IM Ravi Gopal Hegde (5.5); Gaurav Das (5.5) bt FM SG Joshi (4.5); IM Anup Deshmukh (4) lost to Swaraj Palit (5.5); Snehil Konatham (5) bt IM Sharad Tilak (4); FM Matta Vinay Kumar (4) lost to AIM Komal Srivatsav Sajja (5); Aswin PG (5) bt Samant Aditya S (4); IM Shashikant Kutwal (5) bt Pranav Vijay Tangsale (4); Amardeep Bartakke (5) bt Aanjaneya Phatak (4); Mihir Joshi (5) bt Pratik Mulay (4).
Close Story
Personalise your news feed. Follow trending topics