Citizen forums in Pune raise concerns as more than 40 approach roads pending in PMC, PMRDA region
Citizen forums allege land scam involving lower-rung bureaucracy, elected representatives and middlemen.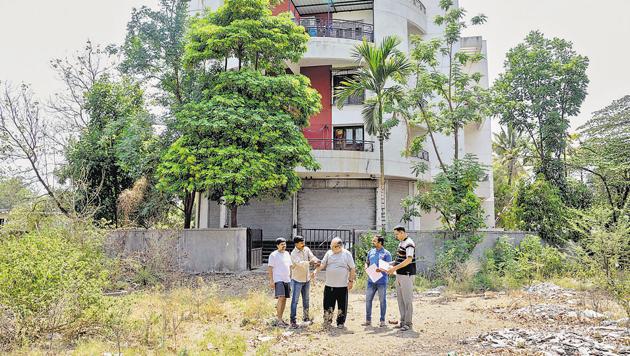 Updated on May 17, 2018 10:11 PM IST
Hindustan Times, Pune |
Nadeem Inamdar
Urban Pune and its surrounding metropolitan region are facing serious issues related to non construction of approach roads for periods spanning between seven to 10 years. Residents have complained that despite PMC and PMRDA issuing completion certificates to the buildings, the road departments of the civic bodies have not initiated road construction in many areas across the city.
Citizen forums have termed the approach road issue as road land scams which aid the lower rung bureaucracy, elected representatives and other middlemen, leaving residents with perpetual problems. According to Wagholi housing societies association (WHSA), construction of 30 approach roads are pending owing to the failure of the civic governance for the past one decade. Roughly, construction of more than 40 approach roads are pending in eastern Pune.
Both, Pune Metropolitan Region Development Authority (PMRDA) and Pune Municipal Corporation (PMC), are accused of being completely negligent in their planning, making approach roads a serious issue before the residents.
Mukta Tilak, Pune mayor, said earlier that all the roads approved in the development plan (DP) were the prime candidates for construction on a mandatory basis. "The construction of DP roads cannot be stopped or withheld for any reason. Across the country, the rule for construction of DP roads is uniform. We will ensure that all such roads are constructed at the earliest. We will issue directions to the road department informing them that they must immediately construct the pending approach roads without any further delay," Tilak said.
Data available with the citizen forums spread out in Eastern Pune state that maximum approach road projects were pending in Wagholi, Kondhwa, Mohammadwadi, Hadapsar, Kharadi, Chandannagar, Undri and Mundhwa areas, mainly due to lack of will and vision of the road department.
The most common complaint and serious accusation against the road department of PMC and PMRDA was that the building permission plans were sanctioned even though there were no roads constructed. Lack of awareness of road rights and civic awareness during the past one decade has compounded the problems of the residents, said forum members, stating that the elected representatives did not bother to educate their electorate and kept them in the dark.
Sanjeev Patil, director, Wagholi housing societies association, said, "One of the most flawed, criminal and dangerous practices is that of giving building permissions before giving them public amenities, like roads and water. Builders sell out the properties to the public who then have to keep fighting with the corrupt government department for decades together. This is a complete mafia-like grip which denies the residents their basic road rights. We demand denial of public road on any grounds to be made a criminal offence and strict punishments must be given to the culprits," he informed.
Daljeet Goraya, NIBM annexe citizens watch group member, said, "The illegal method through which vested interests control building permission and the civic road department is the root cause behind the issue. Besides, top bureaucracy is least concerned about what is happening on ground to residents. Moreover, residents are afraid to take up cudgels against vested interests fearing attacks on their lives which prevents them for getting the desired civic amenities," he said.
Pashan residents yet to get approach road
The lackadaisical attitude of Pune Municipal Corporation (PMC) road department has left the residents of Pashan's Ashiyana housing society waiting for a concrete approach road, which they claim was promised when they purchased the flats seven years ago. The residential complex was developed by Vijay Kale, local Bharatiya Janata Party (BJP) legislator.
The owners of the 16-flat building located on the Balaji temple lane in Pashan said that the project's brochure state that a road is proposed connecting Pashan to Sutarwadi, sanctioned under the Development Plan (DP).
"We just want PMC to construct our approach road," said a group of irate residents of Ashiyana society.
"We got possession of our flats in 2011 when the area was just opening up for residential projects. The sole approach road from the Balaji temple lane is concretised only till the nearby society (Mont Vert Dieu). A private land belonging to a local farmer is located between our housing complex and Mont Vert Dieu. We are able to use the farmer's property as a passage as there is a verbal understanding between the farmer and the builder," said Chetan Yerlekar, a resident of Ashiyana society.
According to the civic authorities, the road has been built till Mont Vert Dieu due to hurdles in land acquisition as farmers do not want to give up their lands.
"There are some issues with land acquisition, as a result of which the road has not been constructed for the past few years. I will look into the matter and send a person to survey the land," said Sandeep Kadam, Aundh ward officer.
Residents have blamed PMC for not taking enough efforts to acquire land for the road. "Rainy weather leaves the road damp and muddy causing a lot of public inconvenience. During monsoons there is practically no road at all, but only sludge and potholes, which makes it extremely difficult to navigate, especially for two-wheeler users," said Shrikant Nimhan, chairman, Ashiyana society.
Kale said that he had informed the flat buyers that the road is proposed by PMC, and that the civic body needs to take steps to develop the road. "When I sold the project, I clearly mentioned in the brochure that there was a 'proposed' DP road that will be adjacent to my project. It is the responsibility of PMC to complete the road and acquire the land needed for the road. It does not fall in my jurisdiction, hence I cannot do much about it."
The proposed DP road is a 24-metre wide parallel road from Pashan's Dutta temple road to Bhagwatinagar in Sutarwadi.
"The Balaji temple road still belongs to the farmers. It does not even show on DP as a road. We have seen accidents, people slipping on this muddy stretch during monsoons and we worry that this will be the same situation again," said Kishor Mankar, a resident of Ashiyana society.
"We have raised the issue with the authorities on multiple occasions, but no action has been taken yet. Work for the promised approach road to our building, as mentioned in the development plan, has not even started," said Vishal Bujare, secretary of the society.
According to residents, the PMC road department had sent surveyors but people living in illegal shanties shooed them away stating that it was private land.
.
Close Story