Doctors against panic over bottle gourd juice, but advice against consuming bitter vegetables
Jun 23, 2018 03:17 PM IST
A woman, recently lost her life reportedly after consuming bottle gourd juice.
A woman, recently lost her life reportedly after consuming bottle gourd juice. The incident, however, has created distress amongst many who are unsure about whether these vegetables are safe enough for daily consumption or not.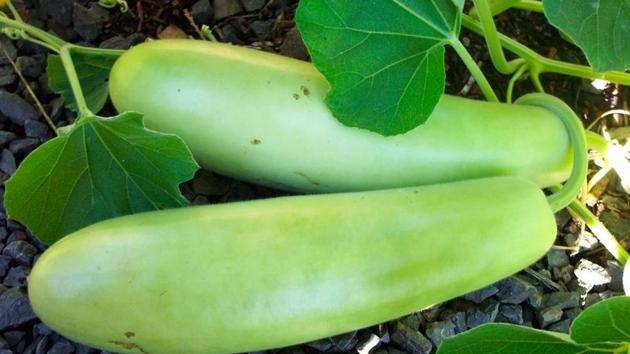 City-based doctors have stated that even as the incident was very unfortunate, there should not be panic with regards to consumption of the vegetables belonging to the Cucurbits, also known as Cucurbitaceae, family, including bottle gourd and cucumber.
When contacted, Dr Sheetal Dadphale, gastroenterologist from Ruby Hall Clinic, said, "It is a well-known thing in medical literature that vegetables in the Cucurbitaceae gourd family, at times, can be a little poisonous. Consumption of these poisonous vegetables in any form can result in nausea, vomiting, vomiting blood and even death."
Dr Dadphale said that people must only be aware that such vegetables, be it cucumber or bottle gourd, should not be consumed if they are bitter in taste.
Sharing similar views, Dr Ajit Kolhatkar said, "There is no reason for panic and vegetables, including bottle gourd and cucumber, are being consumed since centuries and such incidents are very rare."
Dr Kolhatkar emphasised that it is important that people stay away from vegetables which have a bitter taste and buy vegetables from a place that is hygienic.
"Giving importance to hygiene while buying vegetables is also very important. Many times the vegetables can be contaminated and can result in certain illnesses if consumed. Hence buying good quality vegetables is also important," he added.
Sharing his views, Dr Bhooshan Shukla, city-based child psychiatrist, said, "In a recent incident, a woman lost her life due to poisoning after she consumed bottle gourd (dudhi / lauki) juice and unfortunately, it was bitter due to excess content of cucurbitacin. This is a natural toxin produced by cucumber family of vegetables. Its bitterness is a sign to avoid it. Millions of people all over the world consume such smoothies for better health. Every year a few lose their life due to similar toxicity."
Speaking about what could go wrong, Dr Shukla said, "Basic physiology has a lesson for us. Many robust defences are built into chewing and swallowing food, hence this process is important. Smell, flavour and taste of food is a powerful indicator. It informs us of the content of food."
Dr Shukla said that when we see, smell or chew our food, the brain begins to analyse it. "It also starts the 'cephalic phase' of gastric acid secretion which is avoided in case of consumption of juices," said Dr Shukla.