First e-toilet to come up on JM road
Updated on Sep 20, 2018 02:24 PM IST
Toilets automatically flush before and after use with guided audio commands for user. Mechanised system cleans toilet platform after every few users. The next user will not get access until it is cleaned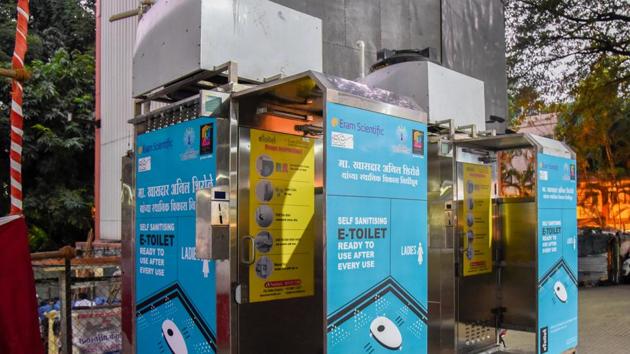 Hindustan Times, Pune |
HT Correspondent
Aiming to solve the issue of unhygienic and unclean public toilets, the Pune municipal corporation (PMC) has decided to setup 14 e-toilets across the city. These toilets are funded from the development funds of member of Parliament (MP) Anil Shirole.
Mayor Mukta Tilak will inaugurate the first e-toilet on Thursday, at Jungli Maharaj road.
Siddharth Shirole, Shirole's son and a PMC corporator, who is overseeing the project, said, "Unhygienic and unclean toilets are a major issue. Many people do not use the public toilets because they are not cleaned. Thus, we decided to introduce e-toilets in the city. Such e-toilets have already been setup in Mumbai and the project has received a good response."
Shirole said that the first e public e-toilet will be set up near hotel Shiv Sagar on Jungli Maharaj road.
Why these toilets are special?
The e-toilets are cleaned mechanically. People will have to pay to use these toilets as the doors would not open until one inserts a coin in the specified slot.
Once the user inserts a coin, the doors open and the sensor-based light system is automatically turned on.
The toilets automatically flush before and after use with guided audio commands for the user. The mechanised system will clean the toilet platform after every few users. The next user will not get access to the toilet until it is cleaned.
Close Story
Personalise your news feed. Follow trending topics