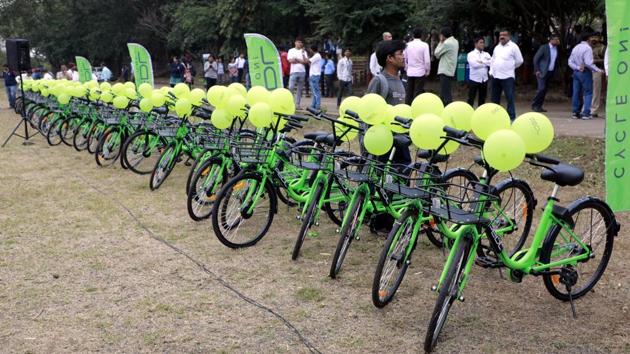 Increasing vandalism of bicycles in Pune forces Zoom Car PEDL to take legal action
The company has local ground team which tracks any 'abandoned' bicycle which is far from the designated docking station
Hindustan Times,Pune | By Prachi Bari
UPDATED ON APR 04, 2018 03:27 PM IST
The vandalism of PEDL bicycles continues, with the latest being torching the lock of the cycle in Gokhale nagar. Zoom Car PEDL is the company that has been contracted to provide bicycles for the Smart City's cycle sharing project. A total of 1000 bicycles are being used across the city. Karve Nagar was the latest addition .
On April 2, around 9pm, fleet executives found one of their bicycles 'abandoned' and tracked it to the slums in Gokhale nagar , where someone had tried to torch the lock. "These are isolated incidents happening in certain pockets of Pune especially in slums. We are still investigating," said Brijesh Unnithan, country head – PEDL. The company vouched for the bicycle to be safe to use and stressed that there is nothing that can catch fire in the bicycle.
"We have taken measures for the safety of the bicycle. We can track it with the help of global positioning system(GPS), which is located in the internal mechanism of the lock of the bicycle. It is a small integrated electronic chip and is designed in such a way that the outer grid of the lock protects it from rough use, high temperatures as well as rain," he explained.
The company has local ground team which tracks any 'abandoned' bicycle which is far from the designated docking station. The bicycle also has another safety device which is an alarm which will beep if there is any unusual activity anywhere near the lock.
"This is mainly happening in Pune because we have maximum number of cycles as compared to other cities. The bicycle count in other cities is lower when compared to Pune and it is placed mostly in colleges or residential areas," said Nirmal N R, vice-president - operations and growth zoomcar, PEDL, "We have recent spates of vandalism in the city and it is mostly concentrated in slum areas like Vidhate Vasti in Baner, Khairewadi and Janwadi in Gokhale nagar, where people have attempted to steal the bicycles or tried to bend the tyres or spokes, and even breaking the locks; but they are less than 0.2 per cent of the total population."
The company has sought legal action and filed a police complaint against this, as well have spoken to the Pune Municipal Corporation to take serious action against such cases.
A local resident of Gokhale nagar, Umesh Wagh said, "It is true that we have certain mischievous elements in our slum areas, but how will stealing this cycle help? You cannot sell them either. This scheme has been welcomed by many and it is indeed a boon to be able to use the bicycle again."
Close