Kanjarbhat youth face ostracism over opposition to virginity tests; protests on the rise in Pune
Updated on Feb 07, 2018 02:25 PM IST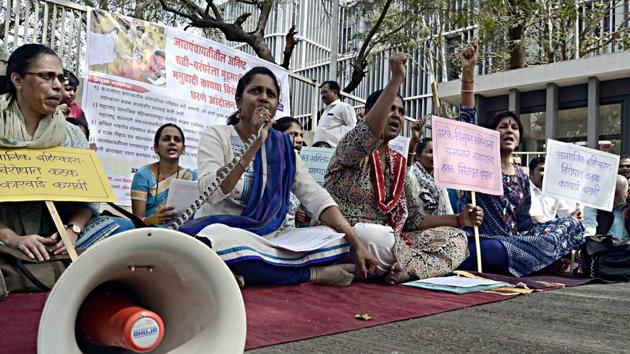 Hindustan Times, Pune |
, Pune
Shalaka Shinde
A youngster from the Kanjarbhat community faces possible ostracisation after he raised his voice against the virginity test, an age-old custom in the community. The threat of the boycott against one of the community youngsters has come at a time when multiple women rights groups on Tuesday held a protest against the Kanjarbhat community's custom of a virginity test for women on their wedding night.
On Tuesday, members of various women's rights groups came together outside the Collector's office near the Pune railway station to protest against the custom and while the protest is gaining ground, Vivek Tamaichikar, a student of the Tata Institute of Social Sciences (TISS), who started the protests against the test, said that the community elders have now warned his relatives against involving him or his family in a wedding.
A rift has appeared between the community elders and youngsters because of the increasingly vocal battle over the tests. According to the young community members, presence or absence of blood on the bed-sheet of a newly married couple after their first night decides whether the woman had sexual relations before or not. While the young are eager for change, the older generation are astounded at their rebelliousness.
"My mama (maternal uncle) was called and told that Vivek and his family should not be there (at the wedding). My mama lives in Dhule," said Vivek Tamaichikar. Vivek also claims that the elders held a meeting in Ichalkaranji on Monday along with a few community women to decide the course of action against the protesting youth.
"The meeting was basically regarding how to tackle us. They were calling us Alibaba and 40 thieves. They said that they would file a defamation suit and false cases against the protestors just to harass them. They also mentioned filing writ petitions under Article 29 and 30 of the Indian Constitution which speaks about the preservation of the rituals of communities. Those who are still not ready to exit that group (WhatsApp group of protesters), they and their families will be boycotted," Vivek added.
Article 29 of the Indian Constitution is about the protection of interests of minorities while Article 30 is about the right of minorities to establish and administer educational institutions.
According to Vivek, community elders including former mayor of Pimpri Chinchwad Municipal Corporation, Kavichand Bhat; Murchand Bhat, Manoj Machre, Vishnu Bhat, Bhupendra Tamchikar were present at the meeting.
However, Kavichad Bhat said that he was not aware of any such meeting and even if there was a meeting, he was not a part of it. Kavichand Bhat's grand-daughter Aishwarya Bhat is Vivek's fiance. Advocate Murchand Bhat, another community senior, however, claimed that a meeting of community member took place in Ichalkaranji. However, he refused to comment on it immediately.
"This is a bad kind of offshoot of patriarchy because you expect so much of purity from women but what about men? We believe in equality. So no man has any right to declare a woman as impure. Because of menstruation, there is a kind of bahishkar (boycott) within the family. The woman is supposed to be outside the home or sit in the corner and not allowed to mix-up with the family members. So there the blood comes out and she is impure and here on the first night of marriage if blood doesn't come out, they declare that hymen is already torn and she is not that pure. These are two blood-related things which in a way are contradictory," said 80-year-old Vidya Bal, a senior writer and activist from Pune.
"This test is against the right to privacy of an individual. And not just in nomadic tribes, even in upper classes it is prevalent to suspect a woman's character and boycott her. Only they don't do it under the name of 'jaat' panchayats. Women do not raise their voice against these things and therefore, it has remained in the dark," said 93-year-old Shanta Ranade, convening member of Bharatiya Mahila Federation.
Bal and Ranade were one of the many women, old and young, who were present at the protest on Tuesday. Along with them advocate Asim Sarode, Razia Patel of Rachna Vikas Sanstha; Kiran Moghe of Bharatiya Janwadi Mahila Sanghatna; activist Subhash Ware and Pratima Pardeshi of Satyashodhak Prabodhan Mahasabha were also present.