Meditation is not about belief, it is about experience, says heartfulness meditation trainer Joshua Pollock
Mar 21, 2018 03:30 PM IST
The Heartfulness Way, a book on meditation, was unveiled in the city by co-author Joshua Pollock, who shared his insights on the subject while also answering questions
"Meditation is universal, and so is its application. It is not about belief, it is about experience," said Joshua Pollock, co-author of 'The Heartfulness Way' during the unveiling of the best-selling book in the city on Tuesday.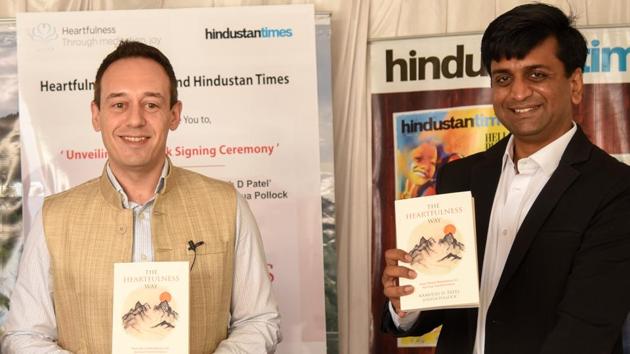 Pollock, who co-authored the book with Kamlesh D. Patel – widely known as Daaji, the fourth guru in the heartfulness tradition –presented rich insights into this form of meditation. The event was held at TSL Consulting Private limited, Model Colony, in association with Hindustan Times.
A heartfulness meditation practitioner and trainer, Pollock is an accomplished Western classical violinist, who has collaborated on a number of projects with the legendary music composer AR Rahman.
Stating that belief is essentially second-hand knowledge, he said, the spiritual approach is about experiencing something for yourself. "Spirituality is all about personal experiences."
He said any experience that absorbs the mind is meditation. " Listening to a conversation is also meditation. If you are forcing yourself to do a particular task, it is concentration. Meditation happens when you are attracted towards something." he said.
While he acknowledged the medically proven benefits of meditation, he said that it was not about deriving something out of it. "You don't meet a loved one and start thinking what they can do for you. Similarly, you cannot meditate just to get something out of it. At the same time, everybody has their own reason to meditate."
Replying to a question on the best time to meditate, he said, it was for each person to decide on the best time. Far more important is the regularity of meditation.
To a question on the most beneficial form of meditation, he said, it is once again for each person to test the various techniques of meditation and then go in for what one finds most suitable.
The book, Pollock said, de-mystifies the subject of meditation with clarifications and answers to queries readers have on the subject.The event saw Pollock lead the audience into a 15-minute demonstration.
Harshal Jawale, programme coordinator, Pune Metro Zone, TSL Consulting's managing director Vivek Bhide and Hindustan Times resident editor Abhay Vaidya spoke on the occasion.
In February, The Heartfulness Institute and Hindustan Times conducted a complimentary, three-day meditation session across 24 centres in the city which saw the participation of nearly 1,000 people. The participants were introduced to relaxation, rejuvenation and de-cluttering processes, as a part of the camp.
****