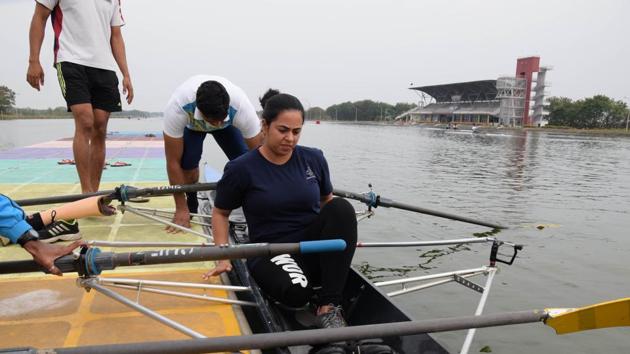 India's first para-rower, Kritika Khanna fights against all odds to rise from the ashes
Kritika Khanna, who relocated from Jammu, trains under India's only para-triathlete, Lieutenant Colonel Gaurav Dutta. She aims represent the country and qualify for the Asian and World Rowing Championships in 2019.
Hindustan Times, Pune | By Pranav Shahaney
, Pune
UPDATED ON APR 02, 2018 04:37 PM IST
Kritika Khanna, 33, saw her life turn upside down after she had to undergo an amputation, following a life-threatening accident in 2003, which left her bedridden for months. An active dancer, she found herself confined to the four walls of her room. The accident though, could not douse her passion for dance and she bounced back even stronger; working out and taking regular dance lessons.
This very perseverance and strength is what drew Lieutenant Colonel Gaurav Dutta, India's only para-triathlete to Khanna, who is now training under him to become India's first professional para-rower.
After Lt Col Dutta heard about her disability and saw that she was willing to go to the limit to pursue her passion, he decided to get in touch with her and asked her to take up rowing professionally.
She was hesitant at first because it was a completely new experience and something she had not tried before, but Dutta managed to convince her to leave Jammu and come to Pune.
"When Lt Col Dutta contacted me to come to Pune, my parents were a bit hesitant as it was extremely far from home. Also it was a new city and I was worried how I'll be able to manage all by myself, considering my disabilities. It was after a very assuring conversation with him that my parents were convinced about the move. This also gave me the confidence to come to Pune," said Khanna when asked about her choice to come to Pune for training.
"I'm also working in a bank, so it was difficult to get such an extended period of leave, but thankfully they were cooperative and gave me the time to take up this new challenge," she added
Taking up a new sport, particularly at the age of 33 is not an easy task, but it is Khanna's strength and determination that has allowed her to take up para-rowing professionally and make tremendous progress.
Bouncing back from her injury was a clear indicator of her willpower, but her inextinguishable focus is what has brought her where she is.
Speaking about her experiences following her injury, she said "People don't accept you suddenly because of your disabilities. You have to work for people's acceptance. Initially, during social events and occasions, I was always at the back, away from the crowd, but nowadays things are completely different. The party doesn't start without me, and I believe that's the way things should be."
In an extremely physical and enduring male-centric sport, Khanna stands out as one of the few female Paralympians who have managed to make a name for herself.
She believes that gender does not play a significant role as long as one has the mental fortitude to overcome a situation. It also matters how well one is prepared to tackle the task.
Speaking about what inspired her and the challenges she faced as a woman, Khanna said, "We have a number of female fitness groups where people look up to me for inspiration. This inspired me to take up rowing and push myself further. Being a woman has not posed any obstacles.
"Sometimes, I feel that at certain events, women are better than men, and they are given their due importance, often even more than their male counterparts. In Pune, I haven't felt any disparities as Lt Col Dutta and the other athletes have been extremely kind and supportive and have always been ready to help with training."
A determined Khanna now has a few months' rowing experience under her belt and is already looking forward to the future, setting targets for herself.
She hopes to be ready not only to qualify for the Asian and World Rowing Championships in 2019 but also to go the extra mile and win a medal for her country and for everyone who believed in her.
Lt Col Dutta however, believes that progress will take time. "She is a beginner. She is the first female para-rower from India, but she has a while to go before she can compete with other top international teams. She has only been doing this for two months, progress will take time," he said.
Close