PMC gives green signal for Pune Cycle Plan, 470-km of segregated tracks
The Centre had given
₹
1 crore for preparing the detailed project report (DPR) for the cycle plan.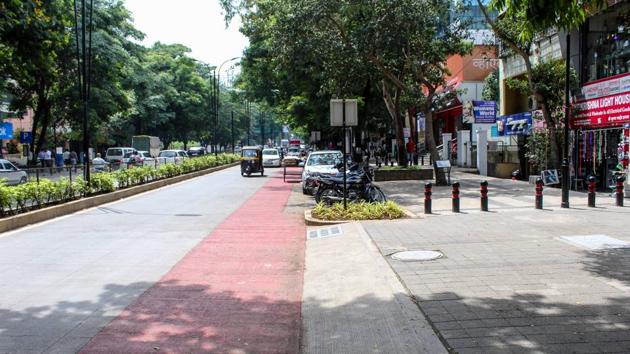 Updated on Nov 22, 2017 02:48 PM IST
Hindustan Times, Pune |
Abhay Khairnar
The standing committee of Pune Municipal Corporation (PMC) has given the go-ahead for Pune cycle plan and assured to make budgetary provision for its implementation. The panel also agreed to execute the public sharing bicycle scheme in the city.
Standing committee chairman Murlidhar Mohol said that the administration has prepared a comprehensive cycle plan for the city.
The Centre had given ₹1 crore for preparing the detailed project report (DPR) for the cycle plan.
PMC in association with a consortium of ITrans- a Delhi-based transportation planning firm, Prasanna Desai Architects and Centre for Environment Education (CEE), both from Pune, had prepared the draft Pune Cycle Plan, known as the comprehensive bicycle master plan for Pune presenting a mega project for integrated, city-wide cycle tracks across Pune.
Traffic department head Srinivas Bonala said, "The standing committee has given its nod for DPR. Even standing committee has promised to make enough budgetary provision for three years as PMC can erect the cycle track network across the city. The panel has also cleared the public cycle sharing plan. "
Bonala said that already five firms have approached the administration for executing the public cycle sharing scheme in the city.
PMC will create the infrastructure and operators would provide cycles and execute the scheme. With the civic body facing flak for not providing dedicated cycle tracks and few cyclists seen on city roads, the plan will ensure proper cycle tracks and availability of cycles. It will also help check footpath encroachment.
Residents' plan
With a preliminary estimate of ₹300 crore (which could escalate to ₹500 crore), PMC has proposed a cycle network plan of approximately 470-km of segregated cycle tracks. Painted cycle lanes and green ways combined, of which about 73-km are existing cycle tracks, which should be retrofitted and brought into the cycle network.
Srinivas Bonala (additional city engineer and incharge of the project) told Hindustan Times that the central government has given the funding for preparing the Pune cycle plan. Besides appointing a consultant, PMC involved citizens for the plan
The draft plan was published on the PMC website https://punecycleplan.wordpress.com and residents had been invited to give their suggestions till September 30 of this year.
First time the suggestions has been called while preparing the cycle plan instead of following the traditional way.
Close Story