Pune crime branch seizes 59 kg sandalwood
May 28, 2018 05:31 PM IST
Accused admits to receiving the illegal goods from an acquaintance in Hyderabad.
PUNE The crime branch unit 1 sleuths of Pune police arrested a man with ten sandalwood logs weighing 59 kg, estimated to be worth ₹3.6 lakh, in Kothrud on Saturday.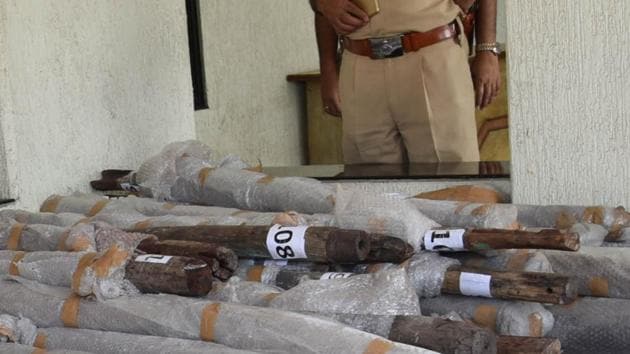 The accused has been identified as Rahul Haridas Ingale (30), a resident of Bhugaon. On Saturday, a team led by police sub-inspector (PSI) Dinesh Kadam was patrolling Kothrud, when policeman Irfan Momin received a tip-off about a red car carrying sandalwood moving in a suspicious manner near the Vanaz corner. A police team laid a trap and nabbed Ingale, who was trying to sell the sandalwood.
"The sandalwood is worth ₹3.6 lakhs and his car is worth ₹two lakhs. We have seized both. During interrogation, the accused told us he got the sandalwood from an acquaintance in Hyderabad," Nitin Bhosale Patil, police inspector in-charge of unit 1, said.