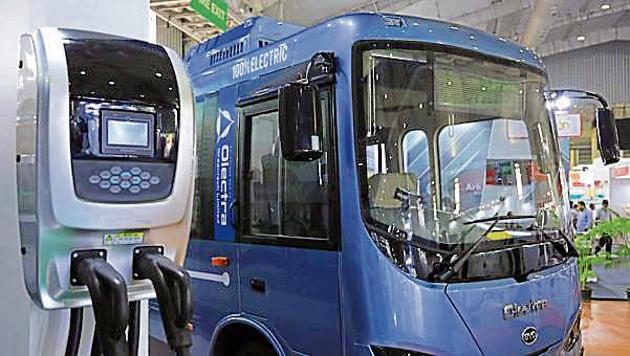 Pune municipal corporation's proposal for e-buses faces wrath of activists
City activists are of the view that it would be better to purchase CNG or diesel buses
Hindustan Times, Pune | By Abhay Khairnar
UPDATED ON DEC 08, 2018 03:08 PM IST
The Bharatiya Janata Party (BJP)-led Pune Municipal Corporation's (PMC) decision to give a subsidy of Rs12.50 crore to a private bus operator to purchase 25 electric buses (e-buses) rather than adding 35 compressed natural gas (CNG) or diesel buses to its own fleet has come under fire from citizen-activists and opposition parties.
On Thursday, 6 December, Pune Mahanagar Parivahan Mahamandal Limited (PMPML) had issued a work order for the hiring of 25 air-conditioned e-buses from Olectra Greentech Ltd at a cost of Rs 1.25 crore each.
Mayor Mukta Tilak, PMPML director Siddharth Shirole and leader of the house Shrinath Bhimale told media persons on Thursday that the PMC will grant a non-refundable subsidy of Rs 50 lakh each to Olectra Greentech Ltd for purchasing the buses as the cost is extremely high. Further, PMPML will also pay Rs40.32 per km as rent for each bus and the cost of the electricity consumed to charge these buses.
In return, the company will ply the buses as directed by PMPML and undertake maintenance of the e-buses. While the conductor on the buses will be a PMPML employee and the driver would be provided by the company.
Citizen-activists and opposition parties have raised serious allegations in the e-bus procurement plan by PMPML. They have demanded cancellation of the tender and a probe in the decision taken by the board of directors.
Tilak and Shirole told the house that the PMPML has planned to hire a total of 500 buses in a phased manner and after the arrival of 25 buses, the next phase would be to process the hiring of 150 buses which would be undertaken in the next two to three months. The first lot of 25 buses are expected to arrive on January 26.
Objecting to the tendering process in this deal, citizen-activist Jugal Rathi said, "Instead of paying Rs 50 lakh subsidy for each bus, it would be better to purchase CNG or diesel buses. This deal needs to be scrapped and a probe should be ordered into it." He alleged that the e-buses procurement process did not "serve commuters' interest, but that of a few decision makers."
The leader of the Opposition in the PMC Chetan Tupe (NCP) raised the possibility of a scam in the deal. "If the PMC is giving Rs 50 lakh subsidy for each bus to be owned by the private operator, rent, electricity bills and other infrastructure costs, then why does the PMPML need e-buses. Instead, the PMPML should purchase buses of its own," he said.
Tupe alleged that these 25 buses had been rejected by the public bus operator in Mumbai, BEST (Brihanmumbai Electric Supply & Transport Undertaking) and that the matter was under litigation between BEST and the private operator in a Mumbai court.
"These very same 25 buses are lying idle in Mumbai. It is surprising that a tender has been floated by the PMPML for 25 buses and they are set to arrive in Pune by January 26," he said.
Former PMPML CMD had opposed the e-buses proposal
While Pune Mahanagar Parivahan Mahamandal Limited (PMPML) chairperson and managing director (CMD) Nayana Gunde said she was unable to comment on the issue of buying e-buses as she was on election duty in Rajasthan, former PMPML CMD Tukaram Munde had opposed the proposal to hire e-buses in view of their high cost.
Munde had submitted his opposition in writing and had advised that instead of hiring e-buses, PMPML should purchase CNG or diesel buses. He had pointed out that the PMPML could purchase at least three buses at the cost of one e-bus. Also, that the PMPML did not need air-conditioned buses. However, following Munde's transfer, the board of directors once again revived the e-bus proposal which was promptly approved.
Mixed reactions
E-buses is the need of the hour. The contractor is bearing the cost of the buses and doing maintenance of the buses. Even PMPML had compared the e-buses rates with all the major cities including Mumbai, Hyderabad, Bangalore and other cities. Oppositions are misleading and the whole process is transparent.
-Siddharth Shirole, PMPML director
We need to move toward e buses where the whole world is moving for environmental reasons. PMC will bear the electricity cost and Chief Minister assured to charge less electricity bill for charging of e buses.
- Mukta Tilak, Mayor
E buses are not a priority of the PMPML. They should concentrate on other problems instead of purchasing these high amount of buses. It is true that e buses are generating less pollution but it is increasing pollution some other places for generating more energy. Government trying to promote e buses to change their image but when the utility is facing financial crises, e buses cannot be a high priority.
-Sujit Pathwardhan, Parisar NGO
Pune did not need AC buses by considering weather condition. Earlier PMPML purchased Volvo buses but what is the status of it. Then why again the decision makers are wasting taxpayers money? Instead of purchasing these high-cost buses if they would purchase existing buses PMPML will help to get more buses at the same cost.
-Maj Gen SCN Jatar, civic activist
Whoever may be in the ruling party are always interested in procurement without considering the need of citizens and utility. It was decided to run a few buses on a pilot basis for few days but instead of doing that the PMPML decided to hire 25 buses and start operations from 26th January.
-Vivek Velenakar, Sajag Nagrik Manch
Close