Pune's Sawai Gandharva classical music festival enters 65th year
Updated on Dec 12, 2017 02:49 PM IST
The 65th edition of the annual Sawai Gandharva Bhimsen Mahostav will begin from December 13 and will be held until December 17.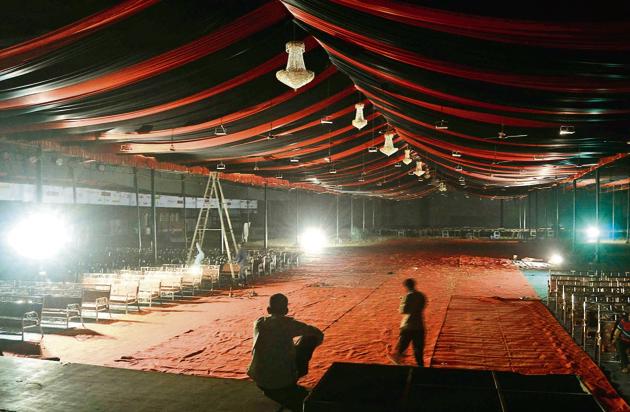 Hindustan Times, Pune |
Prachi Bari and Anjali Shetty
New English School Ramanbaug ground wear a festive look as the date approaches when many music aficionados from all walks of life will descend to listen live to their favourite classical singers and musicians. The 65th edition of the annual Sawai Gandharva Bhimsen Mahostav will begin from December 13 and will be held until December 17.
First Platform
The Sawai Gandharva Sangeet Mahotsav began in a very humble way in 1953 and it has come a long way since then to emerge as one of the most prestigious music festivals. The throngs of music lovers from India and abroad are proof especially when more than thousands attend the festival diligently. Every corner of the ground is covered with people sitting patiently through the course of pure classical music.
Shubadha Mulgund, daughter of Pandit Bhimsen Joshi recalls, "We have been brought up with music in the house. In the earlier days, the music concert was very informal. The beginnings were held initially at Laxmi Krida Mandir then moved to Nutan Marathi Vidyalaya (NMV) Boy's school then the number of listeners was in hundreds unlike now which are in thousands."
"Post my father's guru Sawai Gadharva's death, the idea of beginning a musical concert as an offering of a seva was conceived with the help of Gandharva's son-in-law Vasant Deshpande, who contributed together to hold a music concert as a Punyatithi (anniversary). Since my father used to travel across India, he made a lot of friends while performing with fellow artistes and they would come to perform informally as an offering," she said. Thus, the festival was initiated in memory of his guru Sawai Gandharva aka Rambhau Kundgolkar.
Informal Performance
"This platform is such that the audience here is very disciplined and even the artistes love to perform here. Gradually, my father started adding new artistes which were often recommended by my mother Vatsala who would listen to new singers. Before the artists used to perform the whole night at the concert for three days and it would end with my father's singing. He would begin in the early hours to sing and there would be a full house, with some people coming only to listen to him sing. It was indeed special then," she said.
"Artiste used to live in Panditji's home and the house would resemble a wedding kind of atmosphere, but now over the years, the relationship with artistes has become formal, with them preferring to stay in hotels," she said.
The popularity for Sawai grew so much that the organisers Arya Sangeet Prasarak Mandal opted for Ramanbaug to hold a crowd of 10,000 classical music lovers.
In Remembrance
The festival was rechristened the Sawai Gandharva Bhimsen Mahotsav from its 59th edition in 2011. Bharat Ratna Pandit Bhimsen Joshi known for his khayal gayaki, passed away in 2011 at the age of 89.
Shrinivas Joshi, the son of Pandit Bhimsen Joshi said, "By adding my father's name, it was our tribute to the musical world and thus a dedication to both the maestros of Hindustani classical music."
Speaking to Hindustan Times, Jayant Thatte of RH Thatte and Company, who have been handling the lights for Sawai for over 50 years, said, "The mandap has increased two fold and so is the use of materials. My father used to look after it after Desphande approached my father. First it was only bulbs, then tube lights, now metal halide lights. Before we never used generators and it was all on Maharashtra State Electricity Board (MSEB). Nowadays, two to three gensets are required. Some artistes prefer low lighting like Hindustani classical legend Pandit Jasraj on stage. Now we use lights as per the likes and dislikes of artistes."
Of new pieces and debut performances
The Sawai Gandharva Bhimsen Mahotsav has served as a common platform for musicians and music aficionados for threescore and five years. The music festival has presented some of the world's most renowned stalwarts on the stage and people from across the globe have gathered to witness magic weave on this very stage.
This year, the festival offers the same magic but with additional surprises. While the schedule has big names that will light up the stage on all five days, the festival will also see promising performers who will be expressing their talent for the first time at Sawai.
Speaking to Hindustan Times, Pandit Debashish Bhattacharya said, "I have played for 50 years and have conducted over 3,000 concerts worldwide. This is my first at Sawai and I am excepting an audience of five star quality which is not available in many parts of the world. For Sawai, I am making a new piece on my slide guitar, which is a mix of Hindustani classical music and temple music. I am bringing a new flavour to my performance as it is the inaugural day of Sawai and it calls for a celebration."
So, is he excited or nervous about his debut Sawai performance. He added that with every performance, every musician goes through a few seconds of breathlessness. "When that happens, those few seconds is left up to God. I want the audience to keep an open mind and be ready to listen to music without comparisons."
Father-son sarod player duo Rajan and Sarang Kulkarni are excited about their performance together at the 65th Sawai Gandharva Bhimsen Mahotsav. Rajan said, "This is my second year at Sawai, but it marks my son's debut performance at the fest. I am glad he has had the chance to present his works on a platform that has huge and renowned artistes performing. It is a temple for artistes and I am happy to be sharing the stage with him."
Sarang is having mixed feeling and is excited and nervous at the same time. "It can't get better than the fact that I am making my debut at Sawai and sharing the stage with my father and guru. It is a great honour to be associated with the fest and it is a huge responsibility too."
This year, artists who will be performing at Sawai Gandharva Bhimsen Festival for the first time include vocalist Vijay Rajput, vocalist Gayatri Joshi, sitar player Kushal Das and vocalist Tushar Dutta among others.
Close Story
Personalise your news feed. Follow trending topics