Startup Saturday: Restarting-up to turn copper into 'gold'
How an age-old tradition was crafted back to life, starting-up again... from scratch.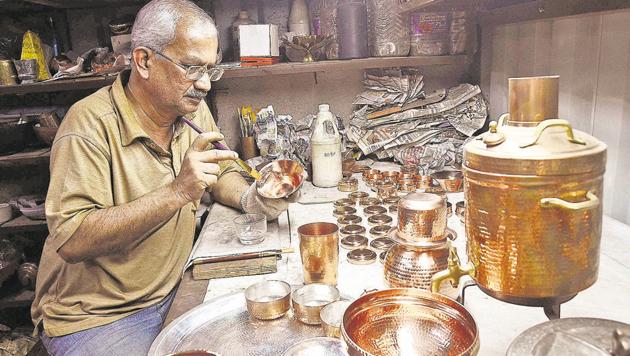 Updated on Nov 25, 2017 04:03 PM IST
Hindustan Times, Pune |
Namita Shibad
Copper art? That as a start-up idea may not set the early stage investors on fire - so to speak.
However, there is a lot more going under the hammer for this venture than what meets the proverbial eye.
This startup venture has some serious historical precedent. Office space, tooling, staffing and skill-enabling, words that normally spell 'nightmare' for any startup, are all deeply entrenched here.
Welcome to Tambat Ali, Kasba peth. For a century, business has been dwindling and the karigars (artisans) were facing extinction.
Says Kishore Karde, one of the foremost karigars at Tambat Ali, "Historically, we grew during Shivaji's reign when we also used to make arms and ammunition. But, with the advent of the British Raj, our flourishing business came to a standstill as they did not want us to make arms. So, they cut off our supply of copper by 90 per cent."
With that gone, the karigars were forced to refocus on making household utensils. Over time, these items too became irrelevant as people started using steel, glass and plastic. It was only obvious that the new generation took up other jobs and Tambat Ali was left with about 50 to 60 karkhanas (workshops).
Enter the entrepreneur
Says Rashmi Ranade, director, Studio Coppre, "We studied the issue and figured out that the karigars were without work because they had not changed with the times. They needed to create items that were relevant to our times."
So under the aegis of Intach, Rashmi and a team of interested people started working with the karigars. "We created new items and designs and we started selling these."
Slowly things began to change. Sales started increasing and the karigars were slowly getting back to business.
Says Kishore, "Rashmi and Intach gave us completely new things to make. This gave us a lot of work. We were now 25 karkhanas processing about 500 kg of copper a day."
Though 25 years ago 50-odd karkhanas would process 1,500 kg of copper per day, Kishore still feels business has grown because, "In those days we would make huge items like the bumba and kalash. Now we make small items that fetch us much more money."
When the turnaround was happening money of course was needed.
Enter the financiers. Says Chhanda Bihari, part of the Intach team, "In 2011, Intach got a donation from the Forbes Marshal Foundation of Rs 8 lakhs per year for three years. There was a stipulation put forth by Rati Forbes. She wanted that this whole initiative should not be just a donation that would be required by the karigars regularly. She wanted that they should become self sustaining."
This meant business. After three years of funding, the karigars would have to fend for themselves. To help them along as well as seeing a good business opportunity, Rashmi along with Chhanda, Sudakshana Banerji and Seemantini Mihir set up a private limited company, Studio Coppre.
Says Rashmi, "So far we were doing all it took to revive the craft. To keep it self-reliant meant profits, meant efficiency, marketing and so on. This would require much more than just karigars. So we set up a company that was guided and mentored by the late Aadhar Mirchandani. Just before Mirchandani passed away he asked Ganesh Natrajan and Marcia Tejani to be part of this company so that we would be guided correctly."
Uma Natrajan and Marcia are board members of Studio Coppre and invested an amount that the directors are not willing to disclose. "But we have posted growth, "says Chhanda. "Year on year, our growth has been 65 per cent, with the exception of last year on account of demonetisation when it dropped to 26 per cent. We are confident."
What Studio Coppre means to the karigars is that they now earn much more
Says Kishore, "My karkhana which is jointly owned by Harshali Potphode and myself now has a turnover of Rs 2 lakh. Earlier it used to be anywhere between Rs 5,000 and 20,000 a month."
Also, the products that these karigars produce are very different. Says Kishore, "From making utensils we now create works of art. Like when an interior decorator asked us to make 20 huge copper lotuses to be put in a 'lotus pond' in Baba Kalyani's house. They put small electric lamps onto it. This was a completely new creation."
Jewellery boxes, lamps aand small curios are what's bringing them business.
Says Chhanda, "When we received the donation from Forbes, we realised that these karigars did not have a VAT or now, GST registration. So we would buy the copper for them. Then they tools they used, the processes were all outdated. Rashmi spent a lot of time with them training on the new methods and processes that would produce better goods."
With better techniques of production and better designs Studio Coppre became more aggressive in the market. They started moving around the world.
Says Rashmi, "We have had successful exhibitions in the US, Germany and the UK. People all across the globe are now exposed to our Tambat Ali products."
Says Kishore, "Newer designs have opened up new horizons for us. We now export our items all over the world. I feel that the future for us lies in the international markets."
However though the business is growing, the problem for this art form is that it has not many people willing to take over the mantle from the older generation.
Says Kishore, "Our problems are manifold. Earlier it was the economics that pushed our children to hunt for greener pastures. Now it is the lack of social pride in this work. The problem with this lies in our Hindu caste system. The Brahmins taught, the kshatriyas fought wars, the vaishyas did business. All these had their place in society. But the shudras were the outcastes. And we craftsmen who supplied goods to the vaishyas were also considered outcastes. So there is not respect for the work we do.'
An issue that Studio Coppre is also concerned about. Says Chhanda, "We are doing our best to bring about respect this traditional art deserves. We know that if we do not bring it the respect it deserves a few generations down the line it will become extinct. Until recently our website featured only these artisans and their work. So much so that when clients from Germany or the US came to India they would ask to meet up with the man who crafted the items they bought. We try to do everything to bring back the pride in this art."
As Kishore puts it, "wW go to Mumbai to buy copper, the seller is an engineer by training. So I asked him, why you are selling copper. He told me it's because he makes more money here than he does with an engineering job. Now when that happens to our karigars more and more youngsters will want to join their father's profession."
Close Story
Personalise your news feed. Follow trending topics