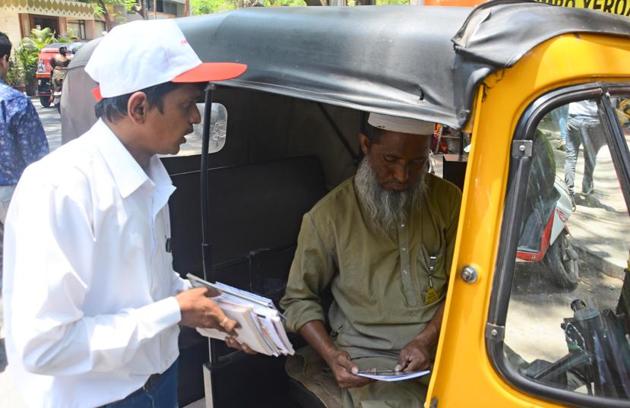 Taking the joy of reading to Pune autowallahs
Pradeep Lokhande and his volunteers distributed 18,400 books to autorickshaw drivers in Pune as part of an initiative to inculcate the habit of reading
Hindustan Times, Pune | By Anjali Shetty
UPDATED ON MAY 12, 2019 04:36 PM IST
On May 9, 24 rickshaws plied on 26 roads of Pune to help spread the word about reading and promote regional languages. The man behind the initiative is Pradeep Lokhande, chief executing officer (CEO) and founder, Rural Relations.
Volunteers of Rural Relations got together at various spots such as Dhole Patil road and Uday Baug and distributed books to auto drivers in the city. The idea stemmed from the fact that Lokhande is keen that "people develop a 'slight' interest in reading" and also "an attempt to keep regional languages alive". He says, "Our basic activity is Gyan-Key which involves stepping up libraries at rural secondary schools. A lot of people donate books to us, but not all are appropriate for school libraries. So, then what do you do with those books? That's how I decided to put those books to good use with this activity."
The initiative also aims at focussing on a completely different target group compared to their earlier ones. "Today, rickshaw drivers do not want their kids to become rickshaw drivers. They want them to study, and go on to either work or start something on their own. They don't want the next generation to suffer health, pollution and insecurity issues. And, for them to push this ahead, reading is of utmost importance," says Lokhande.
Aslam Shaikh, 49, was waiting for passengers on Dhole Patil road when volunteer Nitin Kadam approached him with a book titled, Thoughts, Rules, Revolution and Health tips. "This is a good idea. Now, instead of fiddling on my phone, I can put my time to good use," says Shaikh.
Most importantly, the rickshaw rider himself should be well read. "We thought, while they wait for passengers, they could open a book and glance through. We have picked books that are easy to read, thin-sized and carrying relevant topics, such as health, fitness," says Lokhande.
Kadam, who has been volunteering for 17 years, shares that the activity has gained popularity among auto drivers. He added that they were extremely open to accepting books and were curious too.
Sanjay Shinde, 38, an auto driver from Uday Baug, not only helped take the books around, but was also happy to pick some interesting titles for himself. "I have been driving my rickshaw for 20 years now. This is the first time I have come across an initiative like this. I think it is a good move and much needed one too. The initiative will help brush up our language skills and gain knowledge," says Shinde.
For 63-year-old Bashir Shaikh, who has been driving a rickshaw for 40 years, a book on fitness beyond 60 and health tips was a blessing in disguise. "It is a very helpful book for me. I not only read it, but also try and follow it on a daily basis. It will also keep me company when there are no passengers."
Lokhande aims to conduct the drive again, as he wants to reach out to all the 52,000 auto drivers in the city. "This is not charity. It is an approach. I am just connecting two dots and focussing on a complete new target group."
Books gifted by
Akshardhara: 1,480
Rohan Publication: 1,390
Patil Enterprises: 2,560
Tejgyan Foundation: 4,900
Non-resident villagers: 8,050
Who is Pradeep Lokhande?
Hometown: Satara
CEO and Founder: Rural Relations
Under Rural Relations: Gyan-Key, Non-resident villagers and villagewiKY
Education: Commerce graduate from Ness Wadia College and diploma in marketing from a city institute
What: Information Technology has always been of interest to Lokhande. In the year 2001, he began to seek donations of used computers to be raised in rural secondary schools, where the interest and curiosity of the students is very high. In 2010, he began installing brand new computers in these schools.
What is Gyan-Key? Gyan-Key initiative is working towards opening libraries in rural secondary schools. It is a unique concept - a library for the students, by the students. The library will be managed by one of the girl students "Gyan-key monitor". Encouraging rural students to read and react.
What is villagewiKY?: villagewiKY presents some useful information of 85,000 villagewiKY villages. The information is a result of 22 years of relationship with villages and opinion leaders. The data is sent by villagers, Non-resident villagers and collected by village developers.
What is Non-Resident Villager? : Every Indian living in the city or abroad is a Non-Resident Villager (NRV). As a supporter of the Non-Resident Villager (NRV) movement, you can do a lot for your special village with the help of villagewiKY data (in technology, youth and specially for secondary going school students which is the future of India).
Books and the making of a nation
Abhay Vaidya
Pradeep Lokhande is a man of action and is able to transform his brilliant ideas into reality through his resolve and determination. There is speed in his actions; a time-bound plan which is the result of his corporate background as a market researcher, and a vision that he works towards.
I've had many delightful conversations with Pradeep about the world of books and one of these was about the world's greatest and biggest library, the Library of Congress, in Washington DC.
The library, as it is named, is primarily meant for the elected Congressmen and Senators of the United States so that they can be well-informed while taking decisions and create a society based on the power of knowledge. This is the length to which the founding fathers of the US have gone in giving the highest place of importance to books and knowledge.
The library has, not just books, but everything that falls under the concept of "intellectual property". Its total collection of 167 million items includes 38 million books in 450 languages, 14 million photographs, 70 million manuscripts and a host of audio-video material.
Thirty years ago, the library had a budget of $350 million; it is around $680 million today. It has offices in prominent capitals of the world and an arrangement with selected booksellers across the world who regularly ship books to be included in the library's collection.
I describe this great library as that singular spot on Earth which is a repository of all the knowledge that mankind possesses today.
The best part is that this library is open to one and all and anyone with a valid identity and age-proof (above 18 years) has access to this library.
Close