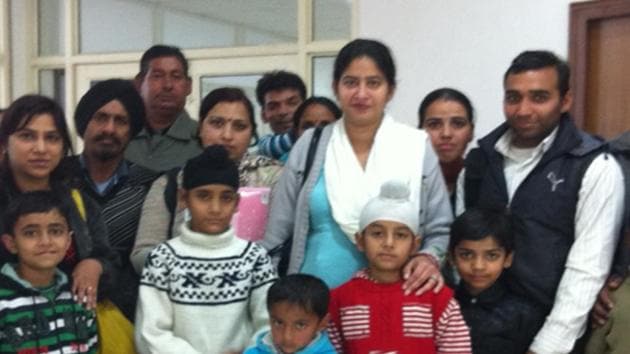 Beacons of Hope: A few good Samaritans save many young lives
Determined to ensure that no child dies for want of medicine, a group of more than 20 do-gooders from the city has become the guardian angel of hundreds of children undergoing treatment at the Advanced Paediatrics Centre (APC), PGIMER.
UPDATED ON DEC 26, 2016 02:25 PM IST
Determined to ensure that no child dies for want of medicine, a group of more than 20 do-gooders from the city has become the guardian angel of hundreds of children undergoing treatment at the Advanced Paediatrics Centre (APC), PGIMER.
Doctors at the centre have made a list of these philanthropists, who they can call for help whenever they think a child is dying because he/she can't afford treatment. "Many children would have died had these people not come forward to help. We are grateful to them," says Dr Surjit Singh, Head, APC.
For families helped by these philanthropists, they are next to God. "I first pay obeisance to Waheguru and then to the doctors and these people, who have saved the life of my grandchild, Harjasan," says Harmeet Kaur, tears rolling down her cheeks.
RARE DISORDER
In 2007, Harjasan Singh, 13, from Kapurthala was diagnosed with a rare genetic disorder called Primary Immunodeficiency Disorder (PID), which weakens the immune system, making the young patient vulnerable to infections and other health issues. One in 1000 persons is infected with this disease, which is life threatening if not treated. But not everyone can afford the treatment costing around Rs 30,000 a month. Harjasan was the first child to be diagnosed with the disease in Punjab. Now their number has increased to five.
"I fainted in the office, when doctors told me about the disease and the cost of treatment," recounts his mother Tajinder Kaur. "I thought I had lost my child as I could never earn so much. For six months, I could not afford an injection for him," says Tajinder Kaur, a seamstress who barely earns Rs 10,000 a month. She remembers how children stopped playing with Harjasan, and her relatives started keeping a distance from them.
The immune defect can be cured either by bone marrow transplant that costs around Rs 30 lakh or, if the defect is less serious, through a drug called IVIg, which is a lifelong therapy. "IVIg is given per kg at the rate of 400 mg per kg. Every 5 gm costs around Rs 8,000. As the child grows, the dose increases. An adult ends up spending around Rs 30,000 per month on one injection," explains Dr Deepti Suri, Associate Professor, Advanced Paediatrics Centre, PGIMER.
GUARDIAN ANGELS
It was in April 2008 that Dr Surjit Singh introduced Tajinder to a philanthropist Vivek Kapoor, who paid half the sum for his treatment, while the rest was donated by colleagues of Tajinder's husband. "It was after a wait of six months that my child got the first injection. There has been no looking back since," says Tajinder.
Vivek Kapoor, founder of Paediatrics Medical Support Society, gave an appeal in Hindustan Times, and the family got donations which ensured injections for a year. Dr Surjit Singh arranged the money for the next three years. He also approached the Punjab government, which has now started giving some amount for the treatment. The scheme was stopped for five months but it has been restarted now though Tajinder fears it could be halted again.
550 IMMUNODEFICIENCY CHILDREN AT PGI
Around 550 children with Immunodefiency disorders are registered with the PGIMER. Out of them, nearly 62 are receiving IVIG at regular intervals, around seven have undergone bone marrow transplants and some are on antibody prophylaxis, which costs Rs 500 a month.
Over 100 of them would have died was it not for the Paediatrics Medical Support Society. Vivek Kapoor recalls the day he became associated with the PGIMER. "Nearly eight years ago, I read an appeal in a newspaper for a child suffering from cancer. That day, I did not go to the factory till I had collected Rs 25,000. I gave the money to PGI after which a senior doctor asked me why I don't do something for poor patients on a regular basis. I discussed it with a few friends and together we started Paediatrics Medical Support Society," he said. At present, the society is funding the treatment of four children suffering from ID, and two from cancer.
Air Marshal (retd) RS Bedi is another philanthropist, who along with his friend KD Arora, has been helping these children for the last 10 years. Shalini Mehta, who runs The God's Child Foundation, has been supporting these children ever since she came in contact with Dr Surjit in 2009. Mehta is supporting the treatment of three children at present. There are many other do-gooders who donate anonymously.
A grateful Dr Surjit Singh says many of these children would have died had these philanthropists not come forward to help. "Now we urge the government to provide funding for the treatment of other children on the lines of their support to patients of haemophilia," he says.
Meanwhile, assured of support from his guardian angels, Harjasan, now 22, is working towards his dream of becoming an archaeologist.
Close