Contractual teachers cry foul over only basic pay for 3 years
As per government proposal, around 20,000 teachers recruited under SSA and RMSA, computer teachers and those hired for Adarsh schools to work on basic pay of Rs 10,300 a month for three years.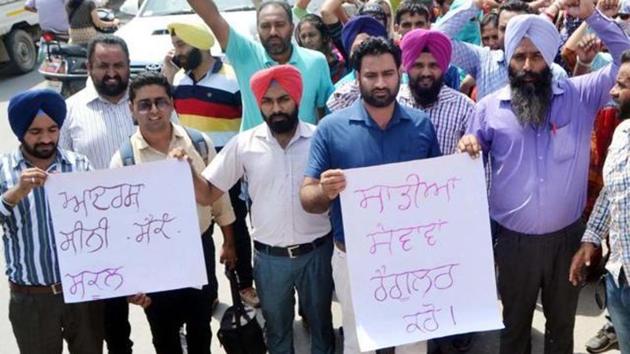 Updated on Mar 11, 2018 05:08 PM IST
Hindustan Times, Muktsar |
, Muktsar
Sarbmeet Singh
Around 20,000 teachers recruited under the Sarva Shiksha Abhiyan (SSA) and Rashtriya Madhyamik Shiksha Abhiyan (RMSA), computer teachers and those hired for Adarsh schools in the state are shocked at the government's proposal to induct them as permanent employees, but work on just the basic pay (Rs 10,300 a month) for three years.
The teachers, based on cadre and experience, are now drawing between Rs 30,000 and Rs 50,000 per month. Over 9,000 teachers under the SSA and the RMSA are earning Rs 40,000 per month.
Model Adarsh School Karamchari Association president Amritpal Singh Sidhu said, "Recently, our staff met secretary, school education, Krishan Kumar. We welcome the government's move of regularisation, but the three-year work on basic pay condition is akin to mocking at teachers. The government is trying to exploit us."
Arundeep Singh, secretary, Computer Education Association, said, "We were recruited in 2005 on Rs 4,500. In 2011, after a lot of struggle, the government hiked our salary to Rs 25,000. This decision is regressive."
There are 7,172 computer teachers working under the Punjab Information Communication and Technical Education Society. Another teacher Gurpartap Singh said, "It will be difficult to survive on basic pay. The school fee of our children is more than the pay we are being offered."
Surinder Nagar, principal of a model school in Sangrur, said, "I am above 50. The government will pay basic pay for three years and by that time, I will be near retirement. What will I get from this new policy?"
Sidhu added, "With such a proposal, the government is indirectly forcing us to leave our jobs. We will fight for our rights and hold a state-level rally on March 25." On Friday, teachers burnt the effigy of the state government.
Speaking to HT over phone, education minister Aruna Chaudhary said, "These teachers are working on contract under Central schemes. Under the rules, they have to work for three years on basic pay to be eligible for regularisation. It is just a tentative proposal from the government. Nothing has been finalised yet." Secretary, school education, Krishan Kumar did not respond to repeated calls from HT.
Close Story
Personalise your news feed. Follow trending topics